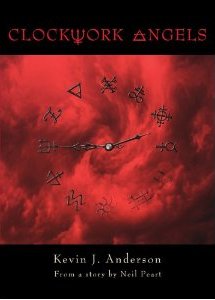 Last week SciFi Pulse posted their A+ review of Kevin J. Anderson's Clockwork Angels novelization, saying the following:
Dazzling locales, memorable characters and high adventure that will make you think long after you're done. What more can you ask from a book?
Today they posted an exclusive interview with Anderson where the author discusses the novel along with his other collaborations with Neil Peart. When asked about all the nods to Rush lyrics contained in the novel Anderson had the following to say:
... I have been immersed in Rush music and lyrics for most of my life, and so when I wrote the prose, I found many natural ways to drop in familiar lines from songs. But I wanted it to be "natural" rather than a clunky nudge and wink. If you aren't familiar with the lyrics, I doubt you'll even notice the nods. But if you do know Rush, you'll appreciate them.
You can check out the entire interview at this location. Anderson posted information to his blog last Friday regarding the world premiere book launch of Clockwork Angels: The Novel:
Toronto fans, we will be launching CLOCKWORK ANGELS: The Novel, first time ever on sale, on Thursday evening, August 23 at the Richmond and John Chapters (142 John Street) at 7:00pm. I'll be in Toronto as a guest at Fan Expo throughout the weekend, but this event-open to the general public-will be the first time the novel is available for sale. I will give a talk, answer questions, and autograph books...lots of them, I hope!

For further details, see chapters.indigo.ca. This event is free, and I do not charge for autographs.

US fans, you'll have to wait an extra week. I WILL have plenty of copies for sale on August 31 at DragonCon in Atlanta.
For a complete list of upcoming appearances/signings check out this post at Anderson's blog. Last week a free pdf version of the Clockwork Angels sampler booklet was made available for download at this location. The preview booklet includes introductions by Neil Peart and Anderson, the first three chapters in the novel, lyrics to Caravan and some of the artwork. Anderson also still has hardcopies of the booklet to give away. For details on how to obtain a hardcopy check out these instructions. You can check out the Lofty Oaks review of the novel from earlier this week here, and pre-order the audiobook version of Clockwork Angels (narrated by Neil Peart) at this location, and the hardcover edition here.
Related Posts:
[Clockwork Angels: The Novel world premiere book launch]
[Clockwork Angels: The Novel preview booklet free pdf download]
[Clockwork Angels: The Novel highlights posted at The Lofty Oaks]
[Clockwork Angels: The Novel special signed and numbered editions on sale now]
[Clockwork Angels: The Novel special signed and numbered editions on sale this Friday]
[Clockwork Angels novel sampler booklet giveaway]
[Clockwork Angels audiobook narrated by Neil Peart]
[Clockwork Angels novel sampler booklet at Book Expo America]
[Clockwork Angels: The Novel official press release]
[Clockwork Angels novelization cover art now available]
[Clockwork Angels novelization by Kevin J. Anderson and Neil Peart now available for pre-order]
[Kevin J. Anderson's novelization of Rush's Clockwork Angels album due out this Fall from ECW Press]
[Author Kevin J. Anderson to write novelization of Rush's upcoming Clockwork Angels album]