UPDATE - 5/10@8:26PM: Also from Anderson's blog post:
We're very pleased to show off the just-released cover for Clockwork Angels: The Novel-one of my most beautiful covers ever. The central image is from the forthcoming Rush album, with the type and cover design by Neil Peart. ECW will publish the hardcover in September (available for preorder now), a full-color volume with paintings and complete lyrics (and the novel itself, of course). From the sample pages I've seen already, this will be a gorgeous book.

The novel is a colorful steampunk fantasy, and I think it has a great deal of heart. Neil and I are very pleased with how it turned out-the creative synergy was amazing. Clockwork Angels: The Novel follows the story mapped out in the songs of the album, but the book isn't only for Rush fans (then again, who isn't a Rush fan???). I hope you'll all enjoy the read. ...
----- snip -----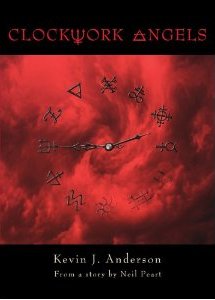 UPDATE - 5/10@7:56PM: Kevin Anderson also announced the cover art via his blog not long ago and included a nice high-res version.
Back in February we learned that sci-fi author and friend of Neil Peart Kevin J. Anderson would be writing a novelization of Rush's upcoming Clockwork Angels album which would be released in the Fall by ECW Press. Amazon.com recently added the book's cover art to its listing here (thanks Lerxster). The artwork simply uses the Clockwork Angels album cover art over a black background. The book is slated for release on September 1st, 2012 under the title Clockwork Angels: The Novel and will be 264 pages long. The cover art cites Anderson as the author with a subheading which reads From a story by Neil Peart. From Anderson's blog announcement of the novelization:
... I worked together with Neil to flesh out the epic story told over the course of the music, as well as the artist Hugh Syme whose paintings fill the CD booklet. In a young man's quest to follow his dreams, he is caught between the grandiose forces of order and chaos. He travels across a lavish and colorful world of steampunk and alchemy, with lost cities, pirates, anarchists, exotic carnivals, and a rigid Watchmaker who imposes precision on every aspect of daily life. To whet your appetite, Rush released the first two tracks, "Caravan" and "BU2B"-listen to those songs to get an idea of the story's beginning.

I'm writing the chapters now, incorporating the lyrics into the narrative, and having a fantastic time. More details to come, but for now-to quote a line from Caravan: "I can't stop thinking big."
Related Posts:
[Clockwork Angels novelization by Kevin J. Anderson and Neil Peart now available for pre-order]
[Kevin J. Anderson's novelization of Rush's Clockwork Angels album due out this Fall from ECW Press]
[Author Kevin J. Anderson to write novelization of Rush's upcoming Clockwork Angels album]