UPDATE - 9/4@6:54PM: ECW Press just announced that they have hidden 10 Golden Tickets inside copies of Clockwork Angels: The Novel (thanks ReddyLee):
The hunt is on, Clockwork Angels: The Novel fans! We've hidden ten Golden Tickets inside copies of Clockwork Angels: The Novel and distributed them around the world. Each lucky finder will be able to redeem their ticket for an 8-volume Kevin J. Anderson and Neil Peart library. Happy hunting!
----- snip -----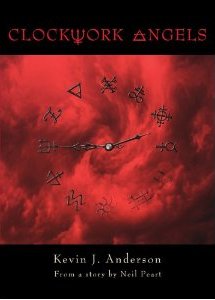 Kevin J. Anderson's Clockwork Angels: The Novel was officially released in the US this past weekend. The 290-page novel is the companion to Rush's Clockwork Angels album and was a collaboration with Neil Peart, who developed the idea for the story. Anderson was recently interviewed by Roadrunner Records to discuss his friendship and collaboration with Neil on the book, along with how Rush's music has inspired and impacted his fiction. Here's what he had to say regarding all the nods to Rush that are contained within the novel:
... Oh, they're all over in there. And it's not just the earlier work-there should be something from every album. I've lived with Rush for most of my life. In a way, my entire career has been focused around Rush, because my very first novel, Resurrection, Inc., was inspired by Grace Under Pressure. And that's how I got to know Neil. I can't even count how many stories or chapters or scenes in other novels have been inspired by Rush songs or Rush albums. So I know these lyrics like they're part of me, and as I was writing they just kept popping into my mind, obvious places to slide things that I knew from albums. But they were natural. I hope they don't stick out like a sore thumb. If you're not super-familiar with Rush, you won't notice that this was an awkwardly inserted phrase to add a nod to a Rush lyric. So there's constant ones in there, even subtle ones that I don't think people will spot, like when the Watchmaker is fixing one of the mechanical parts of the Clockwork Angels and he says "Animate," there's a Rush song called "Animate." It's just a word, but I know I used that word because it was from Rush. This is a project that I've been either unconsciously practicing for all my life, and just came out in the right place. I'm not some writer who came in, listened to a couple of Rush albums and wrote the book.
To read the entire interview go here. You can order the audiobook version of Clockwork Angels (narrated by Neil Peart) at this location, and the hardcover edition here. Anderson will be attending several Clockwork Angels book signings and fan conventions over the coming weeks. For a complete list check out this post at Anderson's blog.
Related Posts:
[Clockwork Angels: The Novel Toronto world premiere book launch report and photos]
[Clockwork Angels: The Novel world premiere book launch tonight]
[Kevin J. Anderson talks Clockwork Angels: The Novel in new SciFi Pulse interview]
[Clockwork Angels: The Novel world premiere book launch]
[Clockwork Angels: The Novel preview booklet free pdf download]
[Clockwork Angels: The Novel highlights posted at The Lofty Oaks]
[Clockwork Angels: The Novel special signed and numbered editions on sale now]
[Clockwork Angels: The Novel special signed and numbered editions on sale this Friday]
[Clockwork Angels novel sampler booklet giveaway]
[Clockwork Angels audiobook narrated by Neil Peart]
[Clockwork Angels novel sampler booklet at Book Expo America]
[Clockwork Angels: The Novel official press release]
[Clockwork Angels novelization cover art now available]
[Clockwork Angels novelization by Kevin J. Anderson and Neil Peart now available for pre-order]
[Kevin J. Anderson's novelization of Rush's Clockwork Angels album due out this Fall from ECW Press]
[Author Kevin J. Anderson to write novelization of Rush's upcoming Clockwork Angels album]