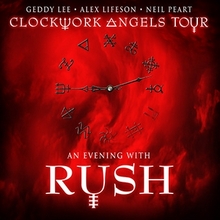 Canadian music store chain Long & McQuade is running a contest where you could win a pair of concert tickets and a meet 'n' greet to one of Rush's Canadian dates on the upcoming Clockwork Angels tour. From the website:
Fill out a ballot at your local Long & McQuade location between June 1st and 30th for your chance to win:

* A grand prize of a pair of tickets and meet 'n' greet passes for the Rush concert in select cities*
* 10 runner-up prizes of the new Rush album, Clockwork Angels, and the DVD Live in Cleveland.

For tour info, visit www.rush.com.

*Grand prizes available to be won: A pairs of tickets and meet 'n' greet passes for Rush concerts in these cities -
Edmonton (Sept.30/12 - Rexall Place)
Saskatoon (Sept.28/12 - Credit Union Centre)
Winnipeg (Sept.26/12 - MTS Centre)
Toronto (Oct.14/12 - Air Canada Centre)
Contest runs June 1 to 30, 2012. One entry per person. Transportation to and from the concert is the winner's responsibility.
For details check out this link. Thanks to John at Cygnus-X1.net for the heads up.
Related Posts:
[Rush 2012/2013 Clockwork Angels tour updates; Helsinki pre-sales, Toronto on-sale, band interviews]
[Rush Clockwork Angels tour: 3 new European dates added]
[Rush 2012/2013 Clockwork Angels tour updates]
[Rush Clockwork Angels tour UK/Europe pre-sale info; 2nd Toronto show added]
[Rush Clockwork Angels tour official UK/Europe dates announced]
[Rush 2012 Clockwork Angels tour updates: pre-sale update, UK/European tour, DVD/BD news]
[Rush 2012 Clockwork Angels tour: third round of pre-sales begins today at 12PM]
[Rush 2012 Clockwork Angels tour updates]
[Rush 2012 Clockwork Angels tour: second round of pre-sales begins tomorrow at 12PM]
[Rush 2012 Clockwork Angels tour updates]
[Rush 2012 Clockwork Angels tour official pre-sale details]
[Official Rush 2012 Clockwork Angels tour announcement and dates!]