UPDATE - 5/24@3:37PM: Reader Ben points out that it's actually been 33 years (34 next year) since Rush's last European festival gig - Pinkpop back in 1979. The Sweden Rock Festival needs to fix their poster! :)
UPDATE - 5/22@1:01PM: Toronto sports radio station The Fan 590 is running a contest to win a pair of tickets to the 2nd Toronto show on 10/16. For details and to enter go to this link (thanks Bigleaf).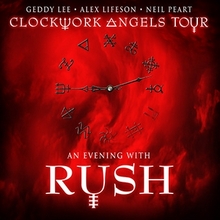 UPDATE - 5/21@10:08AM:

Ticket sale information for all 3 dates is now available online and I've also added all 3 dates to the tour section. Tickets for the June 2nd, 2013 show at the Ziggo Dome in Amsterdam will go on sale July 2nd. Tickets for the band's June 8th, 2013 headlining performance at the Sweden Rock Festival - their first European festival in 35 years - will go on sale September 25th. And tickets for the June 10th, 2013 show in Helsinki go on sale next Tuesday, May 29th - which means pre-sales should be coming up this week.
Last night Rush.com posted 3 additional dates to the 2013 European leg of the Clockwork Angels tour - June 2nd at the Ziggo Dome in Amsterdam, Holland; June 8th at the Sweden Rock festival in Solvesborg, Sweden; and June 10th at the Hartwell Arena in Helsinki, Finland. No details regarding ticket sales or pre-sales have yet been posted. Thanks to Adrian for the heads up.
Related Posts:
[Rush 2012/2013 Clockwork Angels tour updates]
[Rush Clockwork Angels tour UK/Europe pre-sale info; 2nd Toronto show added]
[Rush Clockwork Angels tour official UK/Europe dates announced]
[Rush 2012 Clockwork Angels tour updates: pre-sale update, UK/European tour, DVD/BD news]
[Rush 2012 Clockwork Angels tour: third round of pre-sales begins today at 12PM]
[Rush 2012 Clockwork Angels tour updates]
[Rush 2012 Clockwork Angels tour: second round of pre-sales begins tomorrow at 12PM]
[Rush 2012 Clockwork Angels tour updates]
[Rush 2012 Clockwork Angels tour official pre-sale details]
[Official Rush 2012 Clockwork Angels tour announcement and dates!]