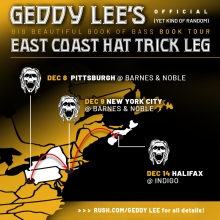 Geddy Lee wrapped up the latest leg of his Big Beautiful Book of Bass signing tour at Coles Halifax Shopping Centre in Halifax this past Saturday. The weekend prior to that he visited Barnes & Nobles stores in Pittsburgh and New York City. The Halifax Chronicle Herald was on hand at the event and posted a video news story with accompanying article covering the event (thanks RushFanForever). They spoke with a number of fans in attendance about their experience meeting Geddy and what Rush means to them. From the article:
... Mike McManaman was one of the fans who waited in line to see Lee. He drove from Amherst to get his book and have his chance to meet Lee. "He's just a hero of mine. He taught me everything I know when it comes to playing bass. He's somebody that really means a lot to me and the whole band - Rush - they're just an amazing band." Jaegar Laird,14, was one of the younger fans in the crowd. "I'm a big fan of Rush because of Geddy Lee's bass playing. I think that he's one of the greatest of all time -- certainly the greatest rock bassist of all time. "I feel a connection to them because one - they're Canadian - and because Geddy wasn't supposed to be a bass player but he got forced into the position and he really made the best of what he was given. I really think he's the greatest. I model my playing after him." Many of the fans took the opportunity to simply say thanks to Lee for the decades of music. Katelyn Bonomo, a guitarist in Halifax, said It's amazing to see Geddy Lee. "(He's) so inspiring to so many musicians and the music is so good." Bonomo took advantage of her time with Lee to say thanks for everything he's done for the music industry. "Being a young musician, it's so inspiring to actually meet him and say hi to him. It was great."
Just like he'd done for his stops in Pittsburgh and New York City, Geddy also posted a memory of Rush's past visits to Halifax to his Instagram page to coincide with his visit:
Fans attending the signing events have been canvasing social media with photos, which I've been accumulating on the RIAB Twitter feed, so check that out and share your own photos as well - I'll retweet as I come across them. This was Geddy's final stop on his signing tour for 2019, and may have been his last stop altogether. Earlier this year Geddy promised that he'd be doing signings up through the end of 2019, but didn't mention anything beyond that. Coincidentally, today is the 1st anniversary of the book's December 18, 2018 release.
Related Posts:
[New East Coast dates announced for Geddy Lee's Big Beautiful Book of Bass signing tour]
[Geddy Lee's Big Beautiful Book of Bass new US signing tour dates announced]
[Geddy Lee's Big Beautiful Book of Bass new US signing tour dates announced]
[Geddy Lee's Big Beautiful Book of Bass European signing tour kicks off in London this past weekend]
[Geddy Lee wraps up his Big Beautiful Book of Bass Canadian signing tour in Montreal]
[Geddy Lee's Big Beautiful Book of Bass European signing tour dates announced]
[Geddy Lee's Big Beautiful Book of Bass Canadian signing tour kicks off in Victoria]
[Geddy Lee's Big Beautiful Book of Bass Canadian signing tour dates announced]
[Geddy Lee book signing at Book Soup in West Hollywood January 30th; tickets available NOW]
[Rush Fan Day at the Rock and Roll Hall of Fame in Cleveland: open thread and live updates]
[Rush Day at the Rock Hall in Cleveland January 19th including a Geddy Lee book signing and interview event featuring Alex Lifeson]
[Geddy Lee book signing at IndigoSpirit in Toronto December 17th, tickets on sale TOMORROW morning at 10AM]
[Geddy Lee's Big Beautiful Book of Bass signing event at Bookend Books in New Jersey next month]