UPDATE - 2/6@3:29PM: Rush just shared the Conan air-drum video that I featured below on their official Facebook page along with this comment from Geddy:
"Clearly the Duplass Bros. are seasoned air drummers...they nailed it!" - Geddy Lee
----- snip -----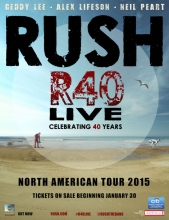 2 weeks ago Rush officially announced their 2015 R40 Live North American Tour which will hit 34 cities across the US and Canada from May through August. The following day they kicked off the first round of pre-sales for 14 of those dates. Tickets for these 14 shows went on sale to the general public last Friday, along with FAN and VIP pre-sales for the remaining 21 shows. Pre-sales for that second round of 21 shows went on all this past week and finally wrapped up yesterday. As of today at 10AM venue time, tickets for 34 of the 35 shows are now on sale to the public (Montreal goes on sale tomorrow). Some radio stations are also running ticket giveaway contests including 102.9 in Philly, so be on alert. Whew! Now we can take our focus off of the pre-sales and back onto the tour itself. On that note, Neil Peart was Jim Ladd's guest on his Sirius XM Deep Tracks radio show this past Tuesday night for an extensive interview. Neil spoke with Jim for close to 2 hours with about a half-hour of Rush music sprinkled in. They discuss a wide range of topics including the upcoming tour, Neil's new book Far and Near: On Days Like These along with his other writing projects, pop music, traveling on his motorcycle, the Mercury-era vinyl reissues, religion, and more. Right towards the beginning of the interview Neil talks about putting together the setlist for the upcoming tour, and says the following:
... As we started to plan this tour it was remarkable how in sync that we were about what we wanted to accomplish and express and present for people and how to go about it and working on the setlist and so on. Of course there were way too many songs, and so we said, "well, we'll play this song one night and we'll play this other song the other night", accommodating everybody's preferences and tastes. It's more than personal. You're thinking of the presentation of the band to an audience who have been around for decades also. So that they will have - not necessarily expectations - but you want to deliver something worthwhile as a statement that kind of encapsulates and punctuates that time together. I think we might call it "Jammin' to the Oldies" [laughs]. ... We want to do a complete chronological presentation of all that time too. It was just nice how easily those decisions were arrived at, and any time there was "too much", there was nobody saying, "I won't play that". There were too many songs that we all wanted to play and possibly resurrect as we've done and so we said, "well ok, we can do all those songs, just not all on the same night." ...
The entire interview is currently up on YouTube at this location with the part where Neil talks about the upcoming tour coming in right at the beginning from about the 2:30-4:30 mark. So from what Neil said, it sounds like the band will be mixing up the setlist a bit from night to night, much like what was done on the Clockwork Angels tour with their Night A and Night B sets. Neil also recently sat down with the Toronto Star's Vinay Menon for a feature in this past Sunday's edition on Rush's upcoming R40 Tour stops in Toronto titled Farewell to Kings: new Rush tour could be last. The interview was actually conducted before the band had finalized plans for the tour, so not much was said on that front. You can read the entire interview online here. Neil Peart's drum tech Lorne Wheaton also provided us with some clues regarding the R40 Live tour during an interview at the unveiling of Neil Peart's new R40 drum kit last month at the 2015 NAMM Show in Anaheim, CA. Lorne spoke with DRUM-Line magazine's Evil Ed Nijjer about the kit and what fans can expect on the tour:
... For this next tour we're not going to be using the full V-Drum kit on the back. We are not going to be spinning. It's going to be full-tilt Rush songs and there will probably be a whole lot of old stuff in [the set] ...
So Lorne makes it sound like Rush may be going old school for the tour. You can check out the full interview with Lorne on YouTube at this location. There are some photos of the new kit available here and here, along with this video walkthrough of DW's booth at NAMM including Neil's kit at about the 1:10 mark. And last week DW released a 4-minute video of Neil Peart discussing the kit which you can check out at this location. Drum Workshop also announced at NAMM that the Neil Peart R40 14x6.5 snare drum will be available for purchase this spring.
It looks like we'll be seeing a lot of Geddy Lee on TV this month. Earlier this week VH1 Classic confirmed that Geddy Lee will be the special guest on the season 14 debut episode of That Metal Show on Saturday, February 21st. From the press release:
... [Geddy] will be making his second appearance on the acclaimed hard rock/heavy metal talk show, hosted by Eddie Trunk, Don Jamieson, and Jim Florentine. Geddy Lee returns to the show to promote the highly anticipated Rush R40 Live 40th Anniversary Tour that will kick off this summer. ... The episode will premiere on Saturday, February 21st at a new broadcast time of 9:00PM ET/PT, repeating at 11:00PM ET/PT the same evening. "Back when TMS was first born Geddy & Alex were nice enough to fly to New York and be a guest in our very first season. I've always had a great relationship with the Rush guys and it meant so much to me they were willing to support something I was doing that at that point hardly anyone had seen or heard of," states host/co-producer Eddie Trunk. "Amazingly almost seven years have passed and we're now about to debut our 14th season of 'That Metal Show' and I couldn't be more honored to welcome back Geddy to the set to celebrate 40 plus years of Rush and the return of TMS!" ...
Following the debut episode of That Metal Show will be the premiere of VH1 Classic's new series Rock Icons at 10PM, which will also feature Geddy Lee in the debut episode. Here's a 30-second teaser trailer, including a few shots of Geddy. Sam Dunn of Banger Films discusses the new series in this VH1 interview. Geddy is also featured in the season 1 finale of the new PBS show Speakeasy which began airing last month. You'll need to check your local TV listings for specific air dates/times.
Clockwork Angels author Kevin J. Anderson announced this past summer at RushCon that he and Neil Peart were working on a companion novel to their 2012 bestselling Clockwork Angels novel for ECW Press titled Clockwork Lives (as in the plural of life) which would feature minor characters from Clockwork Angels and expand on their stories. Although the book has already been available for pre-order for a few weeks now, earlier this week ECW Press put out the official press release and Kevin J. Anderson posted a portion of the first chapter to his blog here. From the press release:
... Anderson and Peart have returned to their colorful creation [of Clockwork Angels] in CLOCKWORK LIVES, a steampunk Canterbury Tales that explores the lives of secondary characters in CLOCKWORK ANGELS and introduces a new protagonist. Marinda Peake is a woman with a quiet, perfect life in a small village. Her alchemist father's will leaves Marinda a mysterious inheritance: a blank book that she must fill with other people's stories-and ultimately her own. Styled after Marinda's book, the ECW volume itself will be a beautiful homage to traditional bookmaking. A limited-run collector's edition will also be available.
The 304-page book is now available for pre-order from Amazon with an expected release date in September of 2015. The book's cover has not been released yet but should be available soon.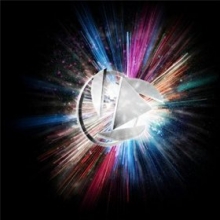 After releasing a series of instrumental singles back in 2011 including Hollowbody, Sonar and Disappearance, the Alex Lifeson-produced David Barrett Trio released their first full-length studio album back in early 2013. The self-titled album was produced by Alex Lifeson, Rich Chycki, and Alan Parsons. This past Tuesday the band announced the release of their follow-up studio album DB3 II. Alex Lifeson offered plenty of support and guidance throughout the making of the album. This past summer he visited the studio for a recording session with celtic guitar virtuoso Tony McManus who guests on the new album, and the session was documented in this Facebook photo gallery. Back in December The Trio also released their first live DVD/CD A Whisper To Thunder, which was captured in April, 2013 at a live performance in Toronto. The show was in support of The Trio's first release and featured a state-of-the-art, stadium level spectacle of light and sound, with a laser show designed by long-time Rush lighting director Howard Ungerleider. For all the details and to purchase your copy of DB3 II or A Whisper To Thunder, just visit davidbarretttrio.com. You can keep up with The Trio by following them on Facebook, and purchase DB3 music on Amazon.
Speaking of Alex Lifeson side projects, guitarist John Wesley's latest album Disconnect released back in April of last year and Alex Lifeson makes a guest appearance, playing a guitar solo on the track Once a Warrior. Wesley is best known to Rush fans as the touring guitarist for Porcupine Tree. A live video of Wesley and his band performing Once a Warrior - including Wesley's tackling of Lifeson's solo - can be viewed on YouTube at this location. Wesley was the subject of an extensive interview feature by Anil Prasad in the October, 2014 issue of Guitar Player magazine last year. The feature included a short sidebar interview with Alex Lifeson where Alex talks about his involvement with Disconnect. The entire article feature, including Alex's sidebar, was recently made available online in expanded format on the Innerviews website here. Wesley talks about how Lifeson became involved with the project, and in Alex Lifeson's sidebar interview Alex explains why he wanted to contribute to the album. Wesley also discusses his friendship with Neil Peart and how that came about. You can read the entire piece online here and learn more about John Wesley by visiting his website or following him on Facebook.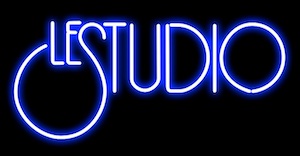 A few years ago we first learned about a group of Rush fans that had organized a YouTube channel dedicated to the legendary Le Studio in Morin Heights, Quebec where Rush recorded several albums including Permanent Waves and Moving Pictures. The idea of the channel was to collect videos and news stories about Le Studio and help keep fans updated on any revitalization efforts, with the eventual goal of creating some kind of documentary. After a few years of development, this past April the channel posted the first episode of their multi-part Le Studio documentary to YouTube. The first episode focused on Le Studio's history and particularly its importance to the history of Rush. It can be viewed on YouTube at this location. The second episode is also now available, and gives a guided tour of (most of) the facility in its current dilapidated state:
... Episode Two finally begins the promised "virtual tour" of the facility, taking viewers through the building in its current state (most site photography and video was taken in 2011-2013). 80% of the building will be covered in this episode, leaving the main recording studio section (final 20%) to an entire Episode Three.
You can watch episode two on YouTube at this location. To keep up to date on future episodes, be sure to follow the Le Studio Channel on YouTube.
Noisy.com posted their list of Thirteen Trippy Rock'n'Roll Cartoons You Should Almost Definitely Not Show to Children earlier this week, and making the cut was 1985's The Body Electric which you can watch in its entirety on YouTube:
From the country that brought us animated sci-fi via Heavy Metal and Rock & Rule, along with musical sci-fi via the mighty Rush, comes The Body Electric. In fact, the made-for-TV movie was directly inspired by the music of Rush, with specific names, locations, and anti-authoritarian themes taken exactly from many of the progressive rock trio's actual songs. As a handful of return to a civilization that was overtaken by robots who have since collapsed into dust, numerous libertarians-in-space anthems by Rush underscore the action, including "The Body Electric," "2112," "Working Man," "Hemispheres," "Jacob's Ladder," "Red Sector A," "Marathon," "Cygnus X-1," "Different Strings," and "The Fountain of Lamneth."
Ultimate Classic Rock posted their list of the Top 10 Victory Songs this past week and Rush's One Little Victory made the cut at #4 (thanks JW):
The propulsive opening track from Rush's 'Vapor Trails' album contains an unmistakably positive sentiment. As with a great deal of this band's songs, drummer Neil Peart wrote the lyrics, which indicate that small victories can become major breakthroughs. In the chorus, singer/bassist Geddy Lee declares, "The greatest act can be one little victory." As with many songs on this list, sports references abound ("another chance to score"), but so do greater themes of tolerance, imagination and determination -- which Rush appears to suggest are all elements of notching a victory.
Togetherness is a new HBO drama series that premiered a few weeks ago. In a recent episode (Season 1, Episode 3 - Insanity) there is a great Rush reference where Tom Sawyer is played and 2 of the co-stars air-drum to the song, as described in this post. Jay and Mark Duplass star in, write, direct and produce Togetherness. They were guests on Conan earlier this week and spoke at length about Rush and the Tom Sawyer scene from the show, even going as far as air-drumming the song with Conan's help. You can check out the video clip below or at this location (thanks Scott):
That's all for this week. No more pre-sales! Have a great weekend everyone!!