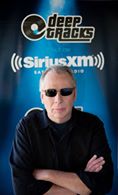 Neil Peart was Jim Ladd's guest on his Sirius XM Deep Tracks radio show last night for an extensive interview. Neil speaks with Jim for close to 2 hours with about a half-hour of Rush music sprinkled in. They discuss a wide range of topics including the upcoming tour, Neil's new book Far and Near: On Days Like These along with his other writing projects, pop music, traveling on his motorcycle, the Mercury-era vinyl reissues, religion, and more. Right towards the beginning of the interview Neil talks about putting together the setlist for the upcoming tour, and says the following:
As we started to plan this tour it was remarkable how in sync that we were about what we wanted to accomplish and express and present for people and how to go about it and working on the setlist and so on. Of course there were way too many songs, and so we said, "well, we'll play this song one night and we'll play this other song the other night", accommodating everybody's preferences and tastes. It's more than personal. You're thinking of the presentation of the band to an audience who have been around for decades also. So that they will have - not necessarily expectations - but you want to deliver something worthwhile as a statement that kind of encapsulates and punctuates that time together. I think we might call it "Jammin' to the Oldies" [laughs]. That would be one approach we could take. But it really was fun discussing different approaches that we might take to it, and how to choose from among all the material. And it was simply "done" once the three of us started sharing email lists of songs and all that. We said, "we played a lot of that last tour, so we can set that album aside, and what about this one we haven't played for a while?" We want to do a complete chronological presentation of all that time too. It was just nice how easily those decisions were arrived at, and any time there was "too much", there was nobody saying, "I won't play that". There were too many songs that we all wanted to play and possibly resurrect as we've done and so we said, "well ok, we can do all those songs, just not all on the same night."
The entire interview is currently up on YouTube (for now!) at this location (thanks Matt M). The part where Neil talks about the upcoming tour comes in right at the beginning from about the 2:30-4:30 mark.