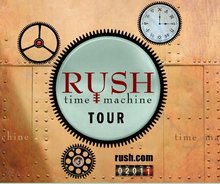 The third and final leg of Rush's 2011 Time Machine Tour is well underway. Rush steadily made their way westward over the past week playing shows in New Orleans, Austin, El Paso and Phoenix. This upcoming week they'll make their way up the California coast playing a show in San Diego tomorrow night and then back-to-back shows at the Gibson Amphitheatre in Los Angeles early next week. Then it's on to Vegas next weekend where Rush will entertain all of the RushCon X1 attendees Friday night. After that Rush will head to the Pacific Northwest for the final few shows of the tour. Hard to believe that it's almost over! Speaking of the Rush tour, a couple of weeks ago MusicRadar.com launched a poll on their website to determine The Best Live Act in the World Today and Rush was one of the 30 artists included in the poll. Rush ended up winning the poll overwhelmingly and the complete results were posted to the MusicRadar.com website yesterday. All I can say is ... duh!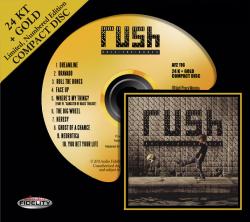 Audio Fidelity announced earlier this week that they will be releasing a limited edition 24 Karat Gold CD version of Rush's Roll the Bones on July 19th. This will be the first Rush release from Audio Fidelity although another company - Mobile Fidelity - has previously released limited edition Gold CD versions of 4 other Rush albums; 2112, Moving Pictures, Signals and most recently Permanent Waves. Also of note, reader Hugh A contacted Audio Fidelity and was told that there would be more Rush releases coming. You can pre-order your copy of the Roll the Bones Gold CD at this link.
Neil Peart's appearance on the Late Show with David Letterman last week garnered a whole lot of buzz in the press including some very kind words from an unlikely source - Rolling Stone:
... Neil Peart went on the Late Show With David Letterman and played an epic six-minute drum solo. Almost nobody else on the planet could pull off such a stunt without putting the audience to sleep, but for Peart is undoubtably one of the greatest drummers alive and it was practically effortless. Members of Paul Shaffer's CBS Orchestra chime in here and there, but Peart – playing a humongous, rotating kit – carries the whole thing on his back.

He appeared on the show to promote his new book Far And Away: A Prize Every Time and the Rush's ongoing Moving Pictures world tour. The show is amazing, but next time out they need to play 2112 straight though. Next to a Genesis reunion with Peter Gabriel, it's the greatest prog tour imaginable.
The appearance also prompted a long Rush discussion on last Friday's episode of The Mike O'Meara Show podcast. At one point host Mike O'Meara asks his producer Robb if he recorded Neil's appearance on The Late Show, then proceeds to gush about Neil and Rush for about 5 minutes. You can give it a listen at this link at about the 8:50 mark.
At one point in the episode of The Late Show where Neil made his appearance, Dave attempted a weak joke involving a fake Neil Peart Plus shampoo bottle. Then his producer Alan proceeded to berate the audience for not appreciating the joke enough. You can watch the bit on YouTube at this link.
Late last year after the 2010 Time Machine tour Alex Lifeson lent his studio and production expertise to the Toronto-based David Barrett Trio. The Trio recorded three tunes in Alex's home studio - Hollowbody, Sonar, and Disappearance - with Alex producing and Rich Chycki handling the engineering duties. Back in March Hollowbody was made available as an MP3 download via Amazon.com and iTunes. Last month the second track Sonar was also made available for download at both Amazon.com and iTunes. The third track Disappearance is now available for listening on YouTube and should also soon be available for download. David talks about the songs and how his collaboration with Lifeson came about in this January post on his blog.

In the new issue of Entertainment Weekly (June 24th) there's a sidebar with actress/comedian Amy Poehler where she talks about her first album, which happens to be Rush's Signals:
I grew up with classic rock: Blue Oyster Cult, Boston, Led Zeppelin. That was cool music. With Signals, I must have been 10 or 11. The Grease double album may have been earlier, but I was one of those girls who actually liked Rush. Still am!
You can check out a scan by clicking on the thumbnail above. Thanks to PhillyMike for the heads up and the scan.
Gibson.com compiled a list of the top 10 backstage tour riders earlier this week and Rush made their list at #4. From the article:
In the Beyond The Lighted Stage documentary, the members of Rush talk of their excitement when they first realized they could order alcoholic beverages to be provided backstage by the promoter. Guitarist Alex Lifeson is even pictured posing proudly with a case of Heineken. Lifeson's love of a Heiney must have waned over the years, because by 1990 the rider specifically stated "absolutely no Heineken," while outlining a selection of fine liquors to provide for the band.
Here's a scan of an actual Rush backstage rider from 1990 at The Smoking Gun that I had posted last year.
Dream Theater guitarist John Petrucci was recently interviewed for Ultimate Classic Rock to discuss the band's upcoming 11th studio album and first without former drummer Mike Portnoy - A Dramatic Turn of Events. John had a few things to say regarding Rush including mentioning Dream Theater possibly covering an entire Rush album live. You can check out the interview at this link. And Dream Theater keyboardist Jordan Rudess has been developing a universal app for the iOS called SampleWhiz which he talks about in this YouTube video (thanks rosmakloma). The coolest thing about the video is - of course - his t-shirt. :)
A group of Rush fans have organized a YouTube channel dedicated to the legendary Le Studio in Morin Heights, Quebec where Rush recorded several albums including Permanent Waves and Moving Pictures. From the channel website:
A tragedy many Rush fans may not know... the world famous 80's and 90's LeStudio recording studio of Morin Heights was closed many years ago. The property has changed hands a few times, with many efforts and goals amongst several ownerships never panning out, or reaching the finish line. The struggle with this piece of Canadian music history continues, and the end of the story is yet unwritten. As of now, the defunct structure (trashed inside due to partial demolition for renovations that never happened) sits quitely deep in the Laurentian Mountains - no water, no power, no heat, for years... slowly deteriorting due to apathy and zero upkeep. This was the birthplace of Permanent Waves and Moving Pictures, plus six other Rush studio albums (and countless other worldwide artists). LeStudio was home to the world's second groundbreaking SSL 4000E console (the first going to Abbey Road Studios in the UK) which put this studio on the map not only for Rush, but many other artists through the 80's and 90's. Andre Perry was the creator of this magical retreat, where artists could enjoy solitude and natural settings (essentially go cottaging by a lake in the mountains) to get their creative juices flowing and totally forget the pace of civilization. This haunting place is dying a slow and steady death of neglect, and most Rush fans don't know about it. Stay tuned to the lestudiochannel and we will not only take you inside today, but will keep you informed of its unfolding fate.
You can check out the latest video update from the channel at this link.
Rush gets a mention in this PC Magazine review for the Soundmatters Foxl v2 Bluetooth wireless speaker. They used Rush's Temples of Syrinx to test out the speaker's performance:
... the prog rock stylings of Rush let the speaker stretch its legs a bit. Neil Peart's drums in "The Temples of Syrinx" sounded loud and energetic, despite not having much weight due to the speaker's matchbook-size bass radiator. Geddy Lee's vocals cut out slightly around the high end, but in fairness Geddy's voice is barely within the range of human hearing to begin with. Still, the speaker left me with the feeling that it could have used a lot more power behind its treble. ...
Rush is featured in this promotional video for the iPad Concert Theater from The Personal Theater - makers of do-it-yourself kits to turn your mobile device into a personal theater. Thanks to Erik for the heads up.
The Canadian Music Scene website will soon be featuring a series of Rush-related interviews. From the site:
Coming shortly... an interview with Howard Ungerleider on the Time Machine Tour Setup and other interesting activities that his company, PDI (Production Design International) are involved in including full colour lasers!

a series of interviews we conducted with various crew members of RUSH... see behind the scenes what it takes to setup RUSH's Time Machine Tour... Great pictures from before the shows in Cleveland, Detroit, Hamilton, and Montreal...

last Friday, May 20th we had Terry Brown down to Ghost Rider Studios were we conducted an in length video interview in HD... I covered Terry's career from his beginnings at Olympic Studios, to his time with RUSH and a few of his new projects including Josh Teark and Blurred Vision...

all of these projects are in the editing stage, we hope to have Howard's interview up by next week!

All the internet and video interview are well in progress we hope to release them in time for RushCon:X1...
Speaking of RushCon, RushCon 2011 (aka RushCon X-1) will take place next weekend on June 24-25th in Las Vegas, coinciding with the Rush concert at the MGM Grand Hotel on Friday. For all the RushCon event details check out this link, and go here to register.
Reader anthemowl sent me this YouTube video of young Rush fan Lauren1RockStar performing a beautiful arrangement of Rush's Time Stand Still.
Back on March 21st Neil Peart taped an interview for the CBC's Strombo which will finally air tonight. According to reports from fans who attended the taping Neil talked about touring, his new book Far and Away and also did a track-by-track breakdown of Moving Pictures. You can watch Neil's full interview on the CBC's Strombo tonight at 11:05PM EST. The episode should also be posted online by sometime tomorrow. As a sneak peak of sorts, earlier this month the show posted online the portion of the interview where Neil breaks down the Moving Pictures album to their website. You can check out the 15-minute video at this link. Then earlier today they posted a 4-and-a-half minute preview of the interview that will air tomorrow. Neil talks about the evolution of his drumming over the years, his influences, and his drum solos. You can check out the preview below or at this link.
That's it for this week. Have a wonderful weekend everyone!