UPDATE - 1/29@6:42PM: The Rush.com newsletter just went out and verified that the VIP password for tomorrow will remain RUSH2015 just like for the 1st round of pre-sales last week. FAN pre-sale links should be up at the Tickets Today site later this evening.
UPDATE - 1/29@2:29PM: All the VIP pre-sales for the 21 shows are now listed at VIP Nation. They all just link off to Ticketmaster except for Montreal and Kansas City; the 2 venues this go-around that don't use Ticketmaster and so will sell VIP packages directly through VIP Nation. There hasn't been any confirmation on whether the VIP pre-sale password will remain RUSH2015 this time, but we'll know soon enough when the Rush.com newsletter goes out sometime today.
UPDATE - 1/29@1:13PM: Rush.com now lists ALL the remaining shows as going on sale next Friday, February 6th with pre-sales tomorrow. Ticketmaster is now listing Las Vegas and Los Angeles too, with Irvine and Seattle likely coming up soon. Wow!
UPDATE - 1/29@11:46AM: Note that Lincoln and Kansas City will also go on pre-sale tomorrow. Tomorrow stands to be a CRAZY pre-sale day with a whopping 17 shows going on pre-sale, not to mention the general ticket sales for the 14 pre-sale shows from last week. The only shows not listing an on-sale date yet are Las Vegas, Seattle, Irvine and Los Angeles.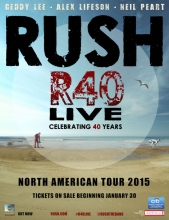 Last Thursday Rush officially announced their 2015 R40 Live North American Tour which will hit 34 cities across the US and Canada from May through August. The following day they kicked off the first round of pre-sales for 14 of the dates, and tickets for these 14 shows will go on sale to the general public tomorrow at 10AM. Before that happens, various Live Nation, venue and radio station pre-sales for some of these 14 shows will be running all day today from 10AM until 5PM (check the tour section for specifics). Also, all the CITI pre-sales for these dates will end today at 5PM along with the VIP public pre-sales. It looks like the Live Nation pre-sales will work using a password of HEADLINER and/or PRESENTS according to this Live Nation help page. Venue pre-sales usually require that you be signed up for some kind of membership with the venue in question to get the pre-sale password. If anyone is a member of any of these venues, and has received the pre-sale password, please send it along. I've received information on one radio pre-sale so far; 97Rock out of Buffalo will be running a pre-sale for the Buffalo show today using a password of R40Buffalo. If you know of any others, please let us know. Any passwords along with all the relevant ticketing links will be listed in the Rush is a Band tour section as soon as we are aware of them, so check back often. As always, if you have questions about how any of the pre-sales work, read my Rush Ticket Sales and Pre-sales Guide/FAQ.
FAN and VIP pre-sales for the next round of dates will kick off tomorrow at 10AM. Whether they have been officially announced yet or not, we can always tell which shows will be included by knowing the general on-sales date. Right now we know that all of the Canadian shows (Toronto, Montreal, Calgary, Vancouver) will go on sale to the public next Friday, February 6 (Feb. 7 for Montreal) along with Lincoln, St. Louis, Austin, New Orleans, Tampa, Greensboro, Columbus, Detroit, Kansas City, Salt Lake City, Portland and Phoenix in the US (most of those US dates were just updated at Ticketmaster this morning). This means that at least these 17 shows will have FAN and VIP pre-sales beginning tomorrow. More might get added, but it doesn't look likely at this point. Rush should be sending out their official newsletter with all the details and the complete list of included shows later today. The Tickets Today website and the VIP Nation Rush listings page will also get updated with all the FAN and VIP pre-sale links between now and tomorrow morning. It's assumed that the VIP pre-sale password will remain RUSH2015, but we'll know for sure when the Rush.com newsletter comes out later today. Stay tuned to the site for all the latest information.
After going through this first round of FAN and VIP pre-sales this past week, we now have a better feel for their inner workings this go-around (they are different every tour). You can get all the details in the Rush Ticket Sales and Pre-sales Guide/FAQ, but I'll give a brief overview here too. The FAN pre-sales are fairly straight forward and handled solely via Tickets Today website with no password required. For past tours, all FAN pre-sale buyers were entered into a contest to win a Meet-n-Greet with the band, but they seemed to have discontinued that practice this go-around. Otherwise the FAN pre-sales operate similarly to how they have operated for past tours. VIP ticket sales are another story. This time around they are run through Ticketmaster unless the venue in question does not use Ticketmaster (Houston, Buffalo, Philly and Denver were examples of these last week). In that case, the VIP tickets will be sold directly via VIP Nation, although all the links will be listed at VIP Nation regardless. Ticketmaster will tell you where your seat is before purchasing while VIP Nation will not. The VIP pre-sales that requires the password will run from tomorrow 10AM until Monday 5PM, or until supplies run out. VIP Nation will explicitly say when either the GOLD and/or SILVER packages are sold out, while it's a bit more ambiguous with Ticketmaster. After the initial run of password-restricted VIP pre-sales, they will run a public VIP pre-sale (no password required) from Tuesday, 10AM until Thursday 5PM or while supplies last. They'll have a fresh supplies of GOLD and SILVER packages for this public sale, even if they had sold out in the original VIP pre-sale. Once the public sale is over, VIP packages will again be available when tickets go on sale to the general public assuming there are still any left.
Another question that always comes up a lot is whether the band will add any further dates to the tour. Unfortunately, that's not very likely judging by the last several tours. If they do add any dates, it's usually a second show in a city they are already scheduled to play (usually in big markets like Toronto, Los Angeles, etc.) and it must fit into their schedule/pattern. For the last several tours Rush has been following a fairly strict pattern of taking AT LEAST one day off before shows. They also typically will take around a 10-day break between legs of the tour, where each leg consists of about 10-12 shows. It is very rare for them to do back-to-back shows, or cut their 10-day break short, although they might do it under extenuating circumstances such as a cancellation or postponement.
Related Posts:
[Rush R40 Live 2015 tour pre-sales open thread]
[Rush R40 Live 2015 tour official announcement!]
[Rush 2015 tour rumors update]
[Rush 2015 tour date rumors; Ticketmaster listing June 23rd Boston Rush show]
[Geddy Lee and Alex Lifeson talk R40 tour, Rock Hall induction and Rush's future in new Radio.com interview]
[Geddy Lee answers fan Twitter questions regarding 2015 tour, setlist requests and more]
[Geddy Lee talks R40, 2015 tour plans in new Rolling Stone interview]
[Make your setlist requests for Rush's anticipated 2015 tour at RushPetition.com]
[Rush making plans for a 2015 41st anniversary tour]