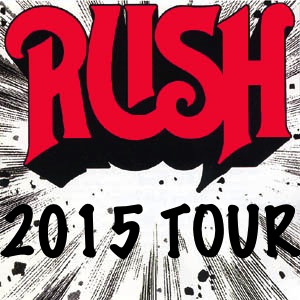 RollingStone.com just reported the following big news regarding a possible 2015 Rush 41st anniversary tour:
Rush wrapped up their worldwide Clockwork Angels tour just seven months ago, but they're already planning a lengthy "41st anniversary" tour for 2015, according to guitarist Alex Lifeson. "The three of us just had a meeting," Lifeson tells Rolling Stone. "We said, 'Let's not talk about anything band-wise for the next year. Let's separate ourselves and come back rejuvenated.' Unfortunately, the other people at that meeting didn't hear what we were talking about, so there are already plans being made for spring of 2015. It's going to be a 41st anniversary tour, or whatever they're going to call it."

The specifics of the tour are still in flux. "We haven't really talked seriously about what we want to do," says Lifeson. "But I think we're probably going to lean towards making it a real sort of fan event, and really try to put something together that's very pleasing for the fans across the board. That's always been difficult, for us to sort of balance things." ... "We want to try and play different material this time," Lifeson says. "I've always wanted to do some rarer Rush material, and this should be a good opportunity to do that. I also think it's going to be a long tour. We just need to stay healthy until then." ...
More details as they become available. Thanks to mike d for the heads up.