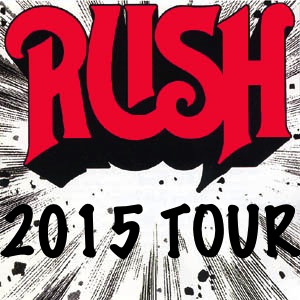 Earlier this week Rolling Stone posted an interview with Geddy Lee where he spoke about Rush's 2015 tour plans, the R40 box set and more. They also elicited questions for Geddy via Twitter using the hashtag #AskGeddyLee and posted a few of the questions along with Geddy's answers this morning. He hedges a bit more on a 2015 Rush tour here:
Well, we haven't really talked about what we would do if we get over the hump and decide if we're going to do something. Once that happens, we'll get into specifics. But I would think if we're going to do some sort of anniversary thing, it'll probably be a "trip through the years" kind of thing.
There are several setlist-related questions that may disappoint fans of mid-70s-era old Rush. Here are a few of his comments regarding specific songs:
Fly By Night: I don't know, man. That song scares me. ... It's a high song. It's also a time and a place. I wouldn't say no, but it wouldn't be my first choice.

The Necromancer: "We are men from Willowdale." Yeah, I don't know. Same thing. That whole Caress of Steel period is stuck in a strange and funny moment in our history. I really don't know how that would stand the test of time.

Cygnus X-1 Books 1 and 2:
Ah, well, that would be cool. Yeah, that would be super cool.

Cut To The Chase":
I like that song. I don't know if the others guys do, but I like that song.

Chemistry: Oh, great. I wrote that song in my basement when I lived in the country. That was one of the first songs I demoed on my own and then brought to the band. And then Neil did his lyrical magic on it. That's a cool song. I like that song.
So there's some hope for Cygnus X-1 but probably not The Necromancer. However, when the interviewer mentioned that fans want to hear stuff from the first three or four albums Geddy said:
If we agree to go out and it is going to be some sort of anniversary thing, then I'm sure we'll pull some of those old songs out.
You can check out the entire interview online here. And don't forget to head over to RushPetition.com and make your 2015 tour setlist requests.
Related Posts:
[Geddy Lee talks R40, 2015 tour plans in new Rolling Stone interview]
[Make your setlist requests for Rush's anticipated 2015 tour at RushPetition.com]
[Alex Lifeson talks R40 in new video interviews from Scott Medlock-Robby Krieger Invitational Golf Tournament]
[Rush making plans for a 2015 41st anniversary tour]