UPDATE - 12/30@8:57PM: All the many rumblings on the various social networks stirred up by the leaked Ticketmaster dates are pointing to some kind of announcement as soon as next week. There was also this tweet from Neil Peart drum tech Lorne Wheaton this afternoon:
Hope everyone had a great Holiday season, and WILL have a safe & Happy New Year!! See u all in the new year...oops, did I just say that?
Followed up by this tweet a couple of hours later:
Just to clarify my last twit.....I don't always work with NP. There ARE other drummers/bands on my resume. I ain't giving nutin up...copy?
----- snip -----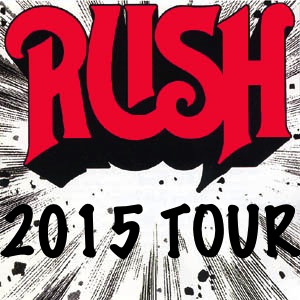 UPDATE - 12/30@10:59AM: Both the Ticketmaster and Live Nation links for the Boston show are no longer active. It's surprising that they lasted as long as they did (screenshot here). Despite this, it's more likely than not that these (the Boston and MSG shows) are still valid dates, with the only error being that Live Nation and Ticketmaster inadvertently posted them prematurely. These premature postings along with the many other rumors pointing to several June shows being scheduled make it very likely that a 2015 Rush tour is a go, and that we'll be getting some kind of official announcement in the near future. Let's hope so!
UPDATE - 12/29@9:16PM: There are also reports of people spotting a June 29th Ticketmaster listing for Rush at Madison Square Garden (screenshot here), although the listing is no longer there (thanks Mark D). Note that the listings are using the old Clockwork Angels Tour image, likely just because that's all they currently have.

As 2014 comes to a close, the Rush 2015 tour rumor mill is starting to kick into gear. I've been hearing over the past week or so that the band has dates in Columbus, Buffalo, Chicago, Detroit and New York City on hold for June, along with a Vegas date late June/early August. Lending credence to these rumors is the fact that Ticketmaster itself is now listing a June 23, 2015 Rush tour date at the TD Garden in Boston, which would fit right in with those other dates (Live Nation has a listing too). Note that there still has been no official confirmation from the band that there will even be a tour in 2015, so take this all with a substantial grain of salt. Last month Radio.com posted an interview where Geddy and Alex talk about a possible R40 tour along with Rush's future plans. Here's what Lifeson had to say:
... Some days I feel like being back out on the road and taking advantage of the fact that it's our 40th anniversary, and on other days, I kind of sit around here messing with musical ideas and I think, "We've got to get together and start writing." I think that whatever we do, it's not going to be until next year. I was over at Ged's the other day, in fact-he's just redone his little [home] studio, [and] we were both chomping at the bit to get together and start writing. He wants to try out his millions of new bass guitars that he's got now. So we'll do some writing, and we'll see where that goes. ...
Geddy was also enthusiastic about touring:
... I just want to play. I wouldn't mind going back on tour. I'm really dying to play, I have all of these new old instruments that I'm dying to try out. My curiosity tends to lean towards playing live. ...
The pair also remark that they would consider playing another full album live, like they did with Moving Pictures on the Time Machine Tour. Alex went on to discuss the potential format of an R40 tour, and would prefer to have at least a couple of new tracks to try out live:
... I think it'd be more of a 40th anniversary celebration, much like R30 was. A fun trip back to the past with maybe some looking forward. In my mind, ideally, we'd go out with a couple of new songs, and revisit some old stuff, maybe stuff we haven't previously played. ... When we bring back some of these songs-I wouldn't call them "obscure," but songs that have been performed less often-they really go over well. "Jacob's Ladder" is one that, every tour, is on everyone's wish list. It's a long song, and it would take up a big portion of the set, we just weren't sure whether or not it would be interesting to do that. We thought the same thing with "The Camera Eye." We avoided playing that live until we did the Moving Pictures thing. And that ended up being our favorite song to play. Never mind if it went over well or not, we loved playing it every night. I would love to do "Fly By Night," for example. I said, "for example," by the way. I think it could be really great live, if we did a heavier version, because it's really poppy and clean. ...
Despite their expressed desire to write/record, if they truly are going to begin touring by early June, it's highly unlikely they'll have any new material to showcase given the timeframe, and that the tour will be another retrospective 40th anniversary tour similar to R30. More information regarding rumored 2015 tour dates as we learn it. Hopefully we'll get some official confirmation from the band sooner than later.
Related Posts:
[Geddy Lee and Alex Lifeson talk R40 tour, Rock Hall induction and Rush's future in new Radio.com interview]
[Geddy Lee answers fan Twitter questions regarding 2015 tour, setlist requests and more]
[Geddy Lee talks R40, 2015 tour plans in new Rolling Stone interview]
[Make your setlist requests for Rush's anticipated 2015 tour at RushPetition.com]
[Alex Lifeson talks R40 in new video interviews from Scott Medlock-Robby Krieger Invitational Golf Tournament]
[Rush making plans for a 2015 41st anniversary tour]