UPDATE - 1/17@9:09AM: Apparently Razor on 96.1 KLPX in Tuscon mentioned on air yesterday that Rush would be hitting Phoenix on July 27th, so I'll go ahead and add that to our list too (thanks Sean).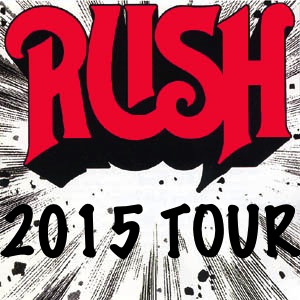 The Rush 2015 tour rumor mill kicked into high gear a couple of weeks ago when Ticketmaster and Live Nation briefly listed 2 tour stops for Rush - a June 23rd concert at the TD Garden in Boston, and a June 29th show at Madison Square Garden in New York City (both listings have since been removed). These listings lent support to other rumors regarding Rush shows being planned for June in Columbus, Buffalo, Chicago, Detroit and St. Louis, along with an early August show in Las Vegas. I now also have a few dates to go along with those cities (see below), although these are definitely subject to change and NOT confirmed/official. I'd also recently gotten word from reader Wes W who claims that the BOK Center in Tulsa had a listing for a July 19th Rush show posted to their website briefly although I haven't been able to independently confirm this (no screenshot either unfortunately). Reader Stephen A let me know that local promoter Jim Koplik was a guest on 99.1 WPLR in New Haven yesterday morning and at one point hinted that Rush would be playing in the New Haven, CT area at some point later in the summer. Note that there's a truncated podcast of his appearance on the show on WPLR's website which does NOT include the mention of Rush. There have also been a few tweets from folks in the Rush camp over the last couple of weeks that tend to lend support to an impending Rush tour as well. Back on December 30th Neil Peart drum tech Lorne Wheaton tweeted out the following:
Hope everyone had a great Holiday season, and WILL have a safe & Happy New Year!! See u all in the new year...oops, did I just say that?
Followed up by this tweet a couple of hours later:
Just to clarify my last twit.....I don't always work with NP. There ARE other drummers/bands on my resume. I ain't giving nutin up...copy?
Last week soon-to-be Hall of Fame baseball pitcher and photographer Randy Johnson - who also happens to be good buddies with Geddy Lee - was asked by a fan via Twitter if Rush had asked him to photograph the band's next tour. Here's what he said:
Already am RT @SuzakutwoLee: @RJ51Photos if @rushtheband asked you to do photos on their next tour (hope) would under you do it?
Then over the weekend Donna Halper suggested that Rush would tour albeit in shorter segments via this tweet:
Rush will tour but perhaps in short segments. After all, the guys are getting older; plus Neil doesn't wanna be away from his kid too long.
And just yesterday a painter at DW Drums posted a photo to his personal Facebook page of the riser they are making for Neil Peart's new drumkit (thanks TEJager910). The photo doesn't reveal much and just shows the solid black riser deck. Since it's his personal FB page, I can't post the actual photo or name the painter, but it's definitely legit. No surprise there since Neil will obviously need a new kit if they tour; the Time Machine kit was officially retired back in November which set off this series of tweets from Lorne Wheaton:
Nov 9 - Guess it's time Bubba & I started to think about a new kit. :0) The "Time Machine" is officially retired after next weekend.

Nov 9 - C'mon.....Slingerland, Tama......LUDWIGS???? Use you're imagination folks!!! We will... maybe a classier design, like a fine exotic ride?

Nov 10 - That's the last time I mention anything. Talk about a shit storm!!!! Tama, multiple kits...abstract blah blah..You'll all see it in 2015.
So there you have it! Despite all this evidence pointing to a tour, we STILL have not received any official confirmation from the one source that counts - Rush themselves. So until then, consider all of this information as rumor/speculation, and have some fun with it. Here's a rundown of the rumored cities/dates so far:
Columbus, OH (6/8)
Buffalo, NY (6/10)
Chicago, IL (6/12)
Detroit, MI (6/14)
Boston, MA - TD Garden (6/23) - briefly listed at TM/LN
New York, NY - Madison Square Garden (6/29) - briefly listed at TM/LN
St. Louis, MO (6/??)
Tulsa, OK - BOK Center (7/19) - allegedly briefly listed at BOK Center website
Phoenix, AZ (7/27)
Las Vegas, NV (8/1)
Hartford/New Haven, CT (??) - toward end of summer according to promoter Jim Koplik
Related Posts:
[Rush 2015 tour date rumors; Ticketmaster listing June 23rd Boston Rush show]
[Geddy Lee and Alex Lifeson talk R40 tour, Rock Hall induction and Rush's future in new Radio.com interview]
[Geddy Lee answers fan Twitter questions regarding 2015 tour, setlist requests and more]
[Geddy Lee talks R40, 2015 tour plans in new Rolling Stone interview]
[Make your setlist requests for Rush's anticipated 2015 tour at RushPetition.com]
[Alex Lifeson talks R40 in new video interviews from Scott Medlock-Robby Krieger Invitational Golf Tournament]
[Rush making plans for a 2015 41st anniversary tour]