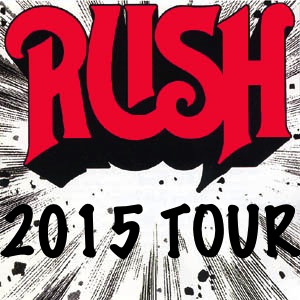 Leading up to the release of the R40 Box Set a couple of weeks ago, Radio.com posted a couple of interviews with Geddy Lee and Alex Lifeson where they discuss the 2 unreleased, pre-Peart Rush tracks featured on the set. Earlier today Radio.com posted several more excerpts from these interviews, where Geddy and Alex talk about the band's Rock Hall induction last year, their acting side projects, charitable efforts, a possible R40 tour, and Rush's future plans. Geddy reiterates the fact that they'll be getting together with Neil Peart soon to determine what the band will do next. Lifeson is unsure whether they'll tour first our write first:
... Some days I feel like being back out on the road and taking advantage of the fact that it's our 40th anniversary, and on other days, I kind of sit around here messing with musical ideas and I think, "We've got to get together and start writing." I think that whatever we do, it's not going to be until next year. I was over at Ged's the other day, in fact-he's just redone his little [home] studio, [and] we were both chomping at the bit to get together and start writing. He wants to try out his millions of new bass guitars that he's got now. So we'll do some writing, and we'll see where that goes. ...
Geddy also really wants to play and write:
... I just want to play. I wouldn't mind going back on tour. I'm really dying to play, I have all of these new old instruments that I'm dying to try out. My curiosity tends to lean towards playing live. ...
The pair also remark that they would consider playing another full album live, like they did with Moving Pictures on the Time Machine Tour. Alex goes on to discuss the potential format of an R40 tour, and would prefer to have at least a couple of new tracks to try out live:
... I think it'd be more of a 40th anniversary celebration, much like R30 was. A fun trip back to the past with maybe some looking forward. In my mind, ideally, we'd go out with a couple of new songs, and revisit some old stuff, maybe stuff we haven't previously played. ... When we bring back some of these songs-I wouldn't call them "obscure," but songs that have been performed less often-they really go over well. "Jacob's Ladder" is one that, every tour, is on everyone's wish list. It's a long song, and it would take up a big portion of the set, we just weren't sure whether or not it would be interesting to do that. We thought the same thing with "The Camera Eye." We avoided playing that live until we did the Moving Pictures thing. And that ended up being our favorite song to play. Never mind if it went over well or not, we loved playing it every night. I would love to do "Fly By Night," for example. I said, "for example," by the way. I think it could be really great live, if we did a heavier version, because it's really poppy and clean. ...
Be sure to check out the complete interview at Radio.com here.
Related Posts:
[Geddy Lee answers fan Twitter questions regarding 2015 tour, setlist requests and more]
[Geddy Lee talks R40, 2015 tour plans in new Rolling Stone interview]
[Make your setlist requests for Rush's anticipated 2015 tour at RushPetition.com]
[Alex Lifeson talks R40 in new video interviews from Scott Medlock-Robby Krieger Invitational Golf Tournament]
[Rush making plans for a 2015 41st anniversary tour]