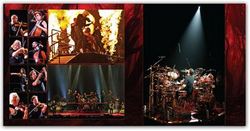 An updated 2013 version of the Clockwork Angels tourbook is now available for purchase at the Rush Backstage Club, just in time for the 2013 leg of the tour which kicks off one week from today in Austin, TX. From the description:
The 2013 Edition of the Clockwork Angels Tourbook has over ten pages of updated content from last year's tourbook. This 32-page tourbook features live shots of the band on their Clockwork Angels World Tour. Along with band portraits, gear lists, and Neil Peart's narrative on the making of Clockwork Angels, you will see live shots of the band alongside the 8-piece Clockwork Angels String Ensemble. You may also notice the very slight change on the front cover, devised by master Illustrator, Hugh Syme. Enjoy!
You can purchase your copy today at the Rush Backstage Club.
Related Posts:
[Rush Backstage Club contest: Win a Rush meet & greet!]
[Rush Clockwork Angels tour concert video to release September 24th]
[Rush Clockwork Angels official Summer tour date announcement]
[Rush Clockwork Angels tour official tour dates; Halifax and Hamilton]
[Rush Spring 2013 Clockwork Angels North American tour official tour date and pre-sales announcement]
[Rush Clockwork Angels tour official attendance and sales figures]
[Rush to film Phoenix and Dallas shows for live DVD release]
[Interview with Clockwork Angels String Ensemble violinist and concert master Joel Derouin]
[Getting to know the Clockwork Angels String Ensemble]
[Clockwork Angels tour opening night in Manchester open thread]
[Follow the Clockwork Angels tour on Twitter]
[Official Rush 2012 Clockwork Angels tour announcement and dates!]