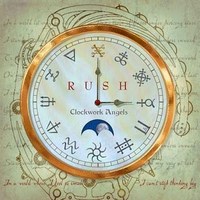 According to the Roadrunner Records website, Guitar World readers have voted Rush's upcoming Clockwork Angels studio release as the most anticipated album of 2012:
Rush's Clockwork Angels, currently being recorded, was voted as the most anticipated of 2012 by Guitar World readers, who chose the disc via a poll on GuitarWorld.com. Rush beat out Black Sabbath, Van Halen, Tool, Lamb of God and Kiss, among others, to take the top spot with 21% of the total vote. ...
Billboard magazine recently posted a short interview with Geddy Lee where he spoke about what fans can expect from the album, along with some new revelations regarding their feelings on the recording of their last album - 2007's Snakes & Arrows:
The first two [single] releases from this album, "Caravan" and "Brought Up to Believe," are a great indication of where this album's going, although there's much more variety than just what those two songs offer. When I look back at [2007 album] "Snakes and Arrows," as happy as we were with that record, in retrospect I feel we kind of overdid it with overdubs. We'd like to simplify that, just in terms of making sure the guitar, bass and drum sounds are big and loud and clear, and any time we are going to add an overdub, to make sure that it definitely is adding and not subtracting.
The band is currently in the studio finishing up the recording of Clockwork Angels which should be released sometime next Spring with a tour to follow.
Related Posts:
[New Billboard interview with Geddy Lee]
[Alex Lifeson Planet Rock interview now online]
[Rush Clockwork Angels feature in latest issue of Rolling Stone]
[Clockwork Angels update: writing completed, recording underway]
[Alex Lifeson Humble and Fred podcast interview now online]
[Geddy Lee talks Clockwork Angels, 2012 tour in new Rolling Stone interview]
[Rush sound engineer Rich Chycki on Clockwork Angels recording, Sector box sets]
[Rush producer Nick Raskulinecz: Clockwork Angels in pre-production; start recording mid-October]
[Rush signs with Roadrunner Records]