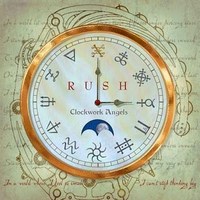 [Rush's Geddy Lee Says New Album Will Be Ready By Early 2012]
Rolling Stone magazine has posted a new interview with Geddy Lee where Geddy talks about the recent Time Machine Tour, the Rush documentary Rush: Beyond the Lighted Stage and the status of their upcoming Clockwork Angels album:
... We're almost finished writing [the album]. We wound the machine back up about three weeks ago. After a sluggish start, we've had a very fruitful couple of weeks in terms of writing. I'm very pleased with the direction that the material has taken. And I think we have one or two more songs that we'd like to write, and then we'll start recording in earnest. Hopefully we'll have all of the recording done before Christmas. Then we'll mix it some time in the next year, and then get it out. ... I hope it'll be out by the spring anyway. ... I think [the sound is] a little different than Snakes and Arrows. It's not finished so it's hard to say exactly what it will sound like in totality, but I think that the direction of "Caravan" and "BU2B" sort of points in the direction that we're going....
Geddy also remarks on touring in support of the album:
... there will be a tour. I can't tell you exactly when. Maybe the summer or maybe the fall. We need some time to organize all that, but we have started to do that at the same time. But yes, there will be a follow-up tour to support the record. ...
Great news for Rush fans. Things seem to definitely be on track.
Related Posts:
[Rush sound engineer Rich Chycki on Clockwork Angels recording, Sector box sets]
[Rush producer Nick Raskulinecz: Clockwork Angels in pre-production; start recording mid-October]
[Rush signs with Roadrunner Records]
[Excerpts from Classic Rock's Prog magazine Rush feature]
[Alex Lifeson interview from the Toledo Free Press]
[New Geddy Lee radio interview at the UK's 106.1 Rock Radio]
[Short Rush Clockwork Angels feature in March issue of Mojo]