UPDATE - 11/14@5:24PM: The truncated 15-minute interview from the TV broadcast includes some clips from the My Effin' Life audio book. The interview begins at the 25 minute and 21 second mark, and you can watch here (thanks RushFanForever).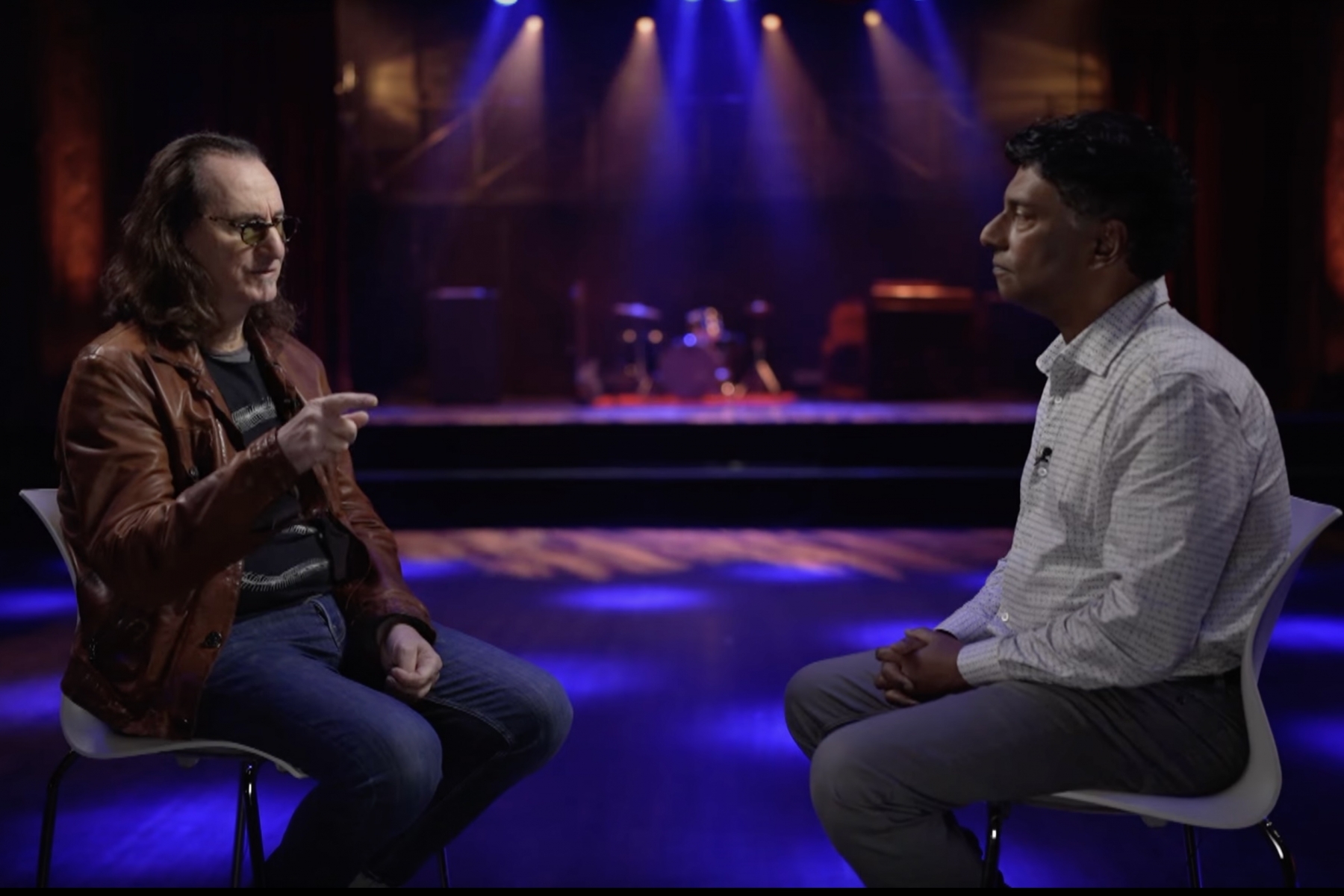 Geddy Lee appeared on the CBC's The National last night for an extensive sit down interview with Ian Hanomansing to discuss his new memoir My Effin' Life and accompanying spoken word tour, which kicks off tonight in New York City. In addition to the book and tour, Geddy talks about Led Zeppelin's profound influence on Rush, how Rush learned about touring from KISS, growing up as the son of Holocaust survivors, his new TV show, and much more.
The entire 30-minute interview is now available for streaming, and you can watch it below or on YouTube at this location. There's also this short bonus video where Geddy answers 8 questions in 2 minutes (thanks RushFanForever). Yesterday the Canadian Press posted the HUGE news that Geddy will be releasing 2 NEW tracks tomorrow as part of the My Effin' Life audiobook release with a digital/streaming release to follow. As mentioned above, Geddy will kick off his spoken word book tour this coming Monday, November 13th at the Beacon Theatre in New York City. He'll then hit another 13 dates across the US and Canada throughout late November and early December. The North American leg ends on December 7th at Massey Hall in Toronto before crossing the pond for the UK tour in Wolverhampton on Sunday, December 10th. All attendees will receive a copy of Ged's book, along with a 16 page color tour book which features unpublished stories, photographs and more. You can get all the details and learn how to get tickets at Rush.com (North America, UK). RushCon will also be hosting pre-show hangouts prior to Ged's appearances in New York City, Boston, Chicago, and Toronto, with details and ticket info available at Rushcon.org.
Related Posts:
[Geddy Lee to release 2 NEW songs Tuesday as part of the My Effin' Life audiobook release and as a precursor to a planned solo project next year]
[Geddy Lee on his upcoming memoir My Effin' Life in new Washington Post interview]
[Geddy Lee on his upcoming memoir My Effin' Life in new Toronto Star interview]
[Geddy Lee on his upcoming memoir My Effin' Life, supporting spoken word tour and whether he and Alex would ever consider touring as Rush again]
[North American dates added for Geddy Lee's My Effin' Life: In Conversation spoken word book tour, with tickets on sale this week]
[Geddy Lee on his upcoming memoir My Effin' Life and supporting spoken word tour in new Planet Rock Radio interview]
[Geddy Lee announces My Effin' Life: In Conversation spoken word book tour]
[Geddy Lee's new memoir My Effin' Life will release November 14th and is now available for pre-order]
[Geddy Lee memoir coming in May from Harper Collins, now available for pre-order]