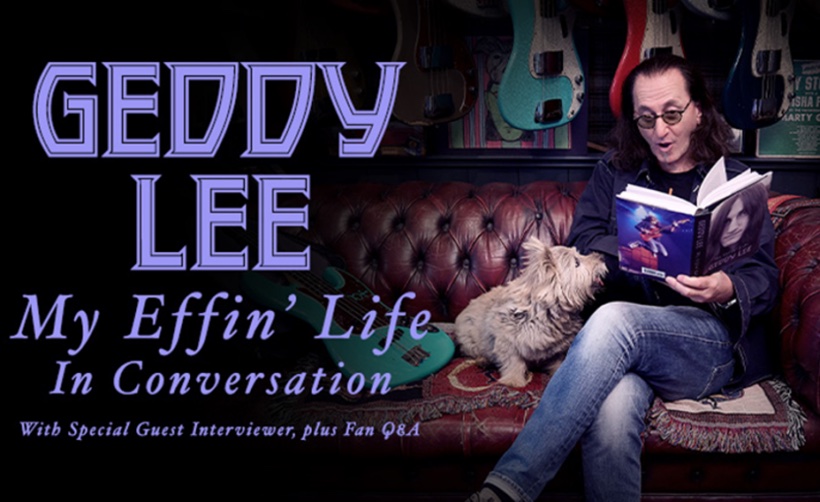 Geddy Lee will be releasing his long-awaited memoir My Effin' Life this coming Tuesday, November 14th, and will be embarking on a spoken word In Conversation tour to promote it starting Monday. The Toronto Star posted an extensive interview with Geddy yesterday where he dishes on some of the more intriguing stories in the book, including his 50-plus year relationship with his wife Nancy, the last years of Rush, dealing with the death of bandmate Neil Peart and more. Here is what he had to say about Rush's final tour:
... "It was weird," he says, arms folded. "That last night was complicated. Because as the tour was winding down, Alex and I were getting sadder and Neil was getting happier. We were diverging. I don't know if he realized how bummed out we were. I was upset with him. I was frustrated. I wasn't ready for the tour to be over." But the finality dawned when Lee overheard Peart ask for his dressing room case to be shipped to his L.A. home, or the "Bubba Cave." For decades, between tours, those three dressing room cases - massive chests equipped with drawers, hangers and enough cubbyholes to stash books and contraband - ended up back in Toronto, in a Rush storage facility, side-by-side-by-side. The shattered symbolism made Lee wince. "That was heavy for me," he says. "Neil had never asked for that before."
...
You can read the entire interview online here (thanks RushFanForever). As mentioned above, Geddy will kick off his spoken word book tour this coming Monday, November 13th at the Beacon Theatre in New York City. He'll then hit another 13 dates across the US and Canada throughout late November and early December. The North American leg ends on December 7th at Massey Hall in Toronto before crossing the pond for the UK tour in Wolverhampton on Sunday, December 10th. All attendees will receive a copy of Ged's book, along with a 16 page color tour book which features unpublished stories, photographs and more. You can get all the details and learn how to get tickets at Rush.com (North America, UK). RushCon will also be hosting pre-show hangouts prior to Ged's appearances in New York City, Boston, Chicago, and Toronto, with details and ticket info available at Rushcon.org.
Related Posts:
[Geddy Lee on his upcoming memoir My Effin' Life, supporting spoken word tour and whether he and Alex would ever consider touring as Rush again]
[North American dates added for Geddy Lee's My Effin' Life: In Conversation spoken word book tour, with tickets on sale this week]
[Geddy Lee on his upcoming memoir My Effin' Life and supporting spoken word tour in new Planet Rock Radio interview]
[Geddy Lee announces My Effin' Life: In Conversation spoken word book tour]
[Geddy Lee's new memoir My Effin' Life will release November 14th and is now available for pre-order]
[Geddy Lee memoir coming in May from Harper Collins, now available for pre-order]