UPDATE - 4/4@10:18AM: NOTE: The Amazon listing now has the book release being pushed back to November 14th, although the Harper Collins site still says July 11th.
UPDATE - 3/25@3:02PM: NOTE: The Amazon listing now has the book release being pushed back to July 11 (thanks Jay R), although the Harper Collins site still says May 16.
UPDATE - 11/15@4:38PM: Several readers noted that neither the Harper Collins nor Amazon listing for the book explicitly state that Geddy Lee is the author. However, both listings were found in the first place by doing a search for Geddy Lee on those respective sites. Searching the Harper Collins site gets these results, which show the book listed alongside Geddy's Book of Bass and a few other items that have references to Geddy (author Beth Evans's work for instance). And searching Amazon under the books category also will yield search results that include the Memoir. Everything else fits too; the ISBN numbers in the 2 listings match, the release date jibes with the expected Spring 2023 date, the Amazon bestseller categories the book is included in (Rock Music, Rock Band Biographies, Memoirs, etc.) make sense, etc. I'm sure the listings will get fleshed out as we get closer to the actual release date - including a description, cover art, etc. Stay tuned.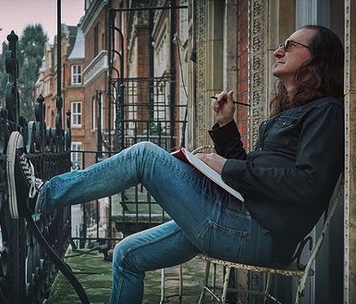 Back in September of last year, Geddy Lee announced via Instagram that he was working on a memoir with a planned release via Harper Collins in the Fall of 2022. He later clarified via a Classic Rock interview back in April that the book would instead probably release sometime in the spring, and we now have some clarification on that. The publisher's website now has a listing for the as-yet-untitled memoir, and it gives a tentative release date of May 16, 2023 (thanks RushFanForever). The listing indicates that the book will be around 400 pages and be available as a hardcover or as an e-book. There's also a listing on Amazon where you can pre-order the hardcover for $35 and the e-book for $17.99. Amazon also shows a CD option for $39.99 but it's not clear what that includes. From Geddy's original Instagram post announcement:
... My friend and collaborator on the Big Beautiful Book of Bass, Daniel Richler, saw how I was struggling in the aftermath of Neil's passing, and tried coaxing me out of my blues with some funny tales from his youth, daring me to share my own in return. So I did-reluctantly at first, but then remembering, oh yeah, I like wrestling with words. It's a less physical version of arguing with musical notes, without a Ricky doubleneck breaking my back! And soon my baby-step stories were becoming grownup chapters. Being the nuclear obsessive that I am, I'd write and re-write them, reassessing perspectives in the narrative not just by scouring my memory banks but my diaries and piles of photo albums too. I was piecing together a mystery of a different kind.

I'd then send these improved and even illustrated stories to Daniel, who'd clean up some of the grammar and remove a lot of the swearing (I love to fucking swear), and presto! In a voice that sounded, well, just like me, a presentable, epic-length account of my life on and off the stage was taking shape: my childhood, my family, the story of my parents' survival, my travels and all sorts of nonsense I've spent too much time obsessing over. And Daniel said, "I think you're writing a book. An actual memoir, in fact." To which I replied, "Hmm... I guess I am."

I'm rounding third on this as-of-yet untitled memoir, which will be published by HarperCollins, edited by Noah Eaker, and is scheduled for release in Fall 2022.