UPDATE - 11/14@5:15PM: NOTE: I did receive confirmation that the music in the IG post is indeed a clip from one of the new songs, namely I Am ... You Are.
UPDATE - 11/14@8:52AM: Here's Geddy talking about the 2 new songs at last night's NYC appearance:
----- snip -----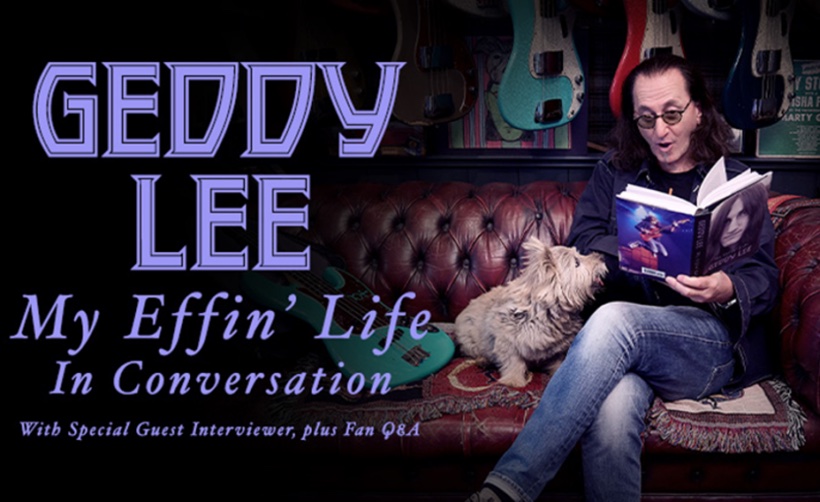 Geddy Lee will be releasing his long-awaited memoir My Effin' Life this coming Tuesday, November 14th, and will be embarking on a spoken word In Conversation tour to promote it starting Monday. When Geddy first announced the book tour several weeks ago, he posted to his Instagram and included some interesting background music that sounded very Rush-like. This caused many to speculate that Geddy might be releasing some new music as part of his book release and tour. Turns out all that speculation was spot on, as this morning the Canadian Press posted the HUGE news that Ged will be releasing 2 NEW tracks on Tuesday as part of the audiobook release with a digital/streaming release to follow (thanks Jay Roberts). From the article:
Geddy Lee is finally ready to start recording new music. The former Rush bassist says he has a renewed songwriting spark that he credits to rediscovering two unfinished demo songs made in the late 1990s. "Gone" and "I Am... You Are" were originally written for his 2000 solo effort "My Favourite Headache," but they didn't end up on the album.Lee came across them while sifting through the archives for his upcoming memoir "My Effin' Life." He shined them up, added new elements to finish them off and said he plans to release both on Tuesday as part of the audiobook version of his memoir, out the same day. His representatives say a digital and streaming release will follow. "It's really whet my appetite to get back to doing something musically," he explained in a recent phone interview. "So now I've got the charge in me again." What that means is still a little uncertain, he admits. He's been talking to his former Rush bandmate Alex Lifeson about potentially collaborating and he's already planning to begin work on a solo project next year. As for the older tracks, each one plays a role in his memoir. "Gone" is a downtempo song he wrote after the death of Selena Taylor. The 19-year-old daughter of late Rush drummer Neil Peart died in a car crash in 1997. Peart's wife died less than a year later of cancer. In his memoir, Lee describes the song as too emotionally raw to release at the time, though he now says it feels like an appropriate reflection on loss. "It's kind of connected to the theme of my book, so I feel very good about that coming to light," he said in an interview. "You'll see that it's not just about that specific loss. It's about loss in general and that horrible feeling you have when somebody is suddenly out of your life and your brain is scrambling to make sense of it. "I Am.. You Are" is closer to what fans will expect, Lee supposes. It digs into the heart of a conflict between two longtime romantic partners. In his memoir, Lee credits his wife Nancy Young for standing by him during his decades on the road. ...
So it's likely that the song playing in the background of his IG post is either one of these 2 new tracks, or some other piece of music that Ged had lying around. A number of interviews have been coming in out in the last few days, including a new Classic Rock interview where Ged talks about the 2 songs, but doesn't mention releasing them (the actual interview was probably conducted several weeks ago).
As mentioned above, Geddy will kick off his spoken word book tour this coming Monday, November 13th at the Beacon Theatre in New York City. He'll then hit another 13 dates across the US and Canada throughout late November and early December. The North American leg ends on December 7th at Massey Hall in Toronto before crossing the pond for the UK tour in Wolverhampton on Sunday, December 10th. All attendees will receive a copy of Ged's book, along with a 16 page color tour book which features unpublished stories, photographs and more. You can get all the details and learn how to get tickets at Rush.com (North America, UK). RushCon will also be hosting pre-show hangouts prior to Ged's appearances in New York City, Boston, Chicago, and Toronto, with details and ticket info available at Rushcon.org.
Related Posts:
[Geddy Lee on his upcoming memoir My Effin' Life in new Washington Post interview]
[Geddy Lee on his upcoming memoir My Effin' Life in new Toronto Star interview]
[Geddy Lee on his upcoming memoir My Effin' Life, supporting spoken word tour and whether he and Alex would ever consider touring as Rush again]
[North American dates added for Geddy Lee's My Effin' Life: In Conversation spoken word book tour, with tickets on sale this week]
[Geddy Lee on his upcoming memoir My Effin' Life and supporting spoken word tour in new Planet Rock Radio interview]
[Geddy Lee announces My Effin' Life: In Conversation spoken word book tour]
[Geddy Lee's new memoir My Effin' Life will release November 14th and is now available for pre-order]
[Geddy Lee memoir coming in May from Harper Collins, now available for pre-order]