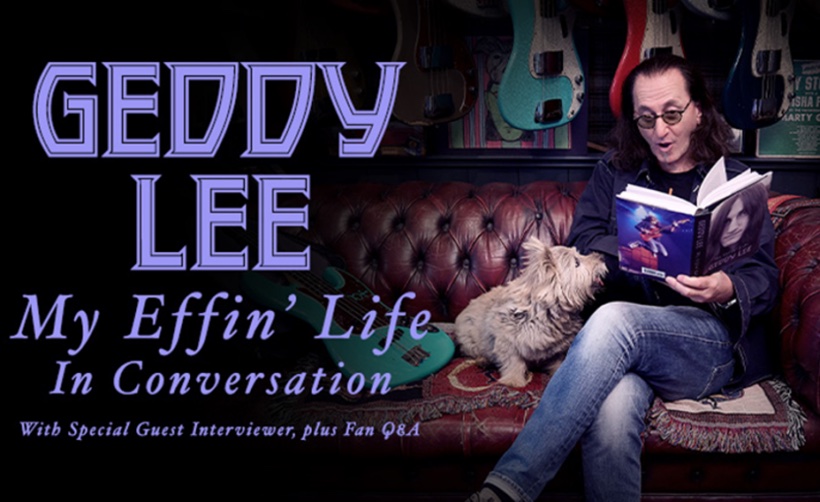 Geddy Lee will be releasing his long-awaited memoir My Effin' Life this coming Tuesday, November 14th, and will be embarking on a spoken word In Conversation tour to promote it starting Monday. Several new interviews with Geddy Lee where he discusses the book have been released in the past few days, including this extensive interview with The Toronto Star from yesterday, which we highlighted earlier this morning, and this in-depth interview with The Washington Post, where he dishes on some of the more intriguing stories in the book, including his 50-plus year relationship with his wife Nancy, the last years of Rush, dealing with the death of bandmate Neil Peart and more. Here is what he had to say about dealing with Neil Peart's cancer diagnosis:
... So ... I've got a brain tumour. Sounds like a joke right there, I know - but alas, no joke. The email from Peart came in August 2016, just as Lee was beginning to contemplate that Rush might really be over. ... Lee was frustrated when an exhausted Peart limited their 40th-anniversary tour to 30 dates in 2015, opting to go home rather than extend to Europe. Still, he hoped his friend would come around again - that Rush would carry on again, eventually. Until he got the email. For the next three years, Lee maintained a promise not to talk about Peart's illness, even when other friends tried to ask about him. The drummer was so private, he hired a publicist to keep the news from getting out. "The thing he feared most was people sitting in his driveway singing 'Closer to the Heart' while he was going through this thing," Lifeson says. "He was a very private person. If you became his friend, he was wonderful. But if not, he could be very aloof and tough." Lee and Lifeson would fly out to visit Peart, or "Peke" as they called him, in connection with some long-ago joke. Peart would pour them two fingers of Macallan, and then they would make fun of Lifeson (or "Leke," as they called him). One day, instead of offering him ice, Peart asked if Lee wanted bacon. He also wrote Lee a note addressing him as "Baby." Lee's many nicknames within the band included Deke, Dirk, Dekey - but never Baby, and this left him deeply rattled. "He's losing his life, but I'm watching his gray cells diminish, and this was the most incredible mind that I had personally known so intimately," Lee recalled. Nancy Young, his wife of 47 years, suggested he find a therapist to try to cope with his friend's illness. It wasn't enough, and soon he saw his mother begin to fail, as well. He began to consider the gravity of all this, "the potential of losing a life's worth of memories." ...
You can read the entire interview online here. As mentioned above, Geddy will kick off his spoken word book tour this coming Monday, November 13th at the Beacon Theatre in New York City. He'll then hit another 13 dates across the US and Canada throughout late November and early December. The North American leg ends on December 7th at Massey Hall in Toronto before crossing the pond for the UK tour in Wolverhampton on Sunday, December 10th. All attendees will receive a copy of Ged's book, along with a 16 page color tour book which features unpublished stories, photographs and more. You can get all the details and learn how to get tickets at Rush.com (North America, UK). RushCon will also be hosting pre-show hangouts prior to Ged's appearances in New York City, Boston, Chicago, and Toronto, with details and ticket info available at Rushcon.org.
Related Posts:
[Geddy Lee on his upcoming memoir My Effin' Life in new Toronto Star interview]
[Geddy Lee on his upcoming memoir My Effin' Life, supporting spoken word tour and whether he and Alex would ever consider touring as Rush again]
[North American dates added for Geddy Lee's My Effin' Life: In Conversation spoken word book tour, with tickets on sale this week]
[Geddy Lee on his upcoming memoir My Effin' Life and supporting spoken word tour in new Planet Rock Radio interview]
[Geddy Lee announces My Effin' Life: In Conversation spoken word book tour]
[Geddy Lee's new memoir My Effin' Life will release November 14th and is now available for pre-order]
[Geddy Lee memoir coming in May from Harper Collins, now available for pre-order]