UPDATE - 12/5@1:51PM: Here's a 4/5 R40 Live review from Examiner.com (thanks RushFanForever).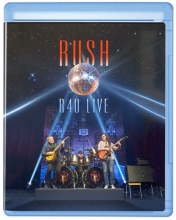 Rush's R40 Live concert film officially released back on November 20th in North America and releases today in Europe. It debuted at #24 on the Billboard 200 US album chart in its first week of release. It was also #1 on both the Rock Albums and Hard Rock Albums charts, and #3 on the Music Video Sales chart. Earlier this week Billboard.com posted this article about the album's chart debut, indicating that it was the first live album to top their Rock Albums chart since the Beatles' On Air: Live at the BBC Volume 2 on the Nov. 30, 2013, chart. R40 Live is available as 2 DVDs, 1 Blu-ray disc or 3 Audio CDs along with various combo packages. Previews of several tracks from the video are available on the Rush YouTube channel, along with a 2-minute trailer for the film here. R40 Live's tracklisting mirrors the Friday, June 19th Toronto show setlist, with One Little Victory, Distant Early Warning and Red Barchetta from the June 17th Toronto show as bonus material on the DVD/Blu-ray. The CD also includes audio for Clockwork Angels, The Wreckers, The Camera Eye and Losing It with Jonathan Dinklage as bonus material. Eric at Power Windows has the liner notes here, and John at Cygnus-X1.net has posted artwork here. The R40 Live reviews have been rolling in over the past couple of weeks and you can check out a few of those at these links:
[JP's Music Blog]
[Classic Rock],
[PopMatters.com] (7/10)
[Progarchy.com]
[A.V. Club]
[Toronto Sun] (4/5)
[Times Record] NEW
[Winnipeg Sun] (4/5) NEW
[The Mace and Crown] (3/5) NEW
[Examiner.com (4/5) NEW
You can order the various R40 Live packages at the following locations:
[3-disc CD/Blu-ray Combo]
[3-disc CD/DVD Combo]
[3 Audio CDs]
[Blu-ray only]
[DVD only]
As 2013 inductees into the Rock and Roll Hall of Fame, the members of Rush are permitted to vote for who they think should get inducted each year. The nominees for the class of 2016 were announced back in early October and the final group of inductees will be revealed later this month. St. Louis radio station KSHE 95 recently spoke with Geddy Lee and Alex Lifeson and asked them who they are voting for:
... [Geddy and Alex] were both surprised to learn that one of this year's nominees, Chicago, aren't already in. Geddy says, "Great band. We all listened to those early CTA [Chicago Transit Authority] records." And Alex adds that they were very "influential." Asked who he'll vote for, Geddy said, "Yes and Deep Purple 100 percent." ...
Geddy Lee was also recently interviewed by the A.V. Club for their Set List column where they speak with artists about some of their more famous songs. Geddy talks about Headlong Flight, Time Stand Still, Working Man, YYZ and more, sharing several anecdotes about the songs and how they came about. He ends the interview talking about his one solo project - My Favorite Headache - which released 15 years ago and when asked if he'd consider doing another solo album he replies, "Yes, I would. Definitely." You can read the entire article/interview online at this location.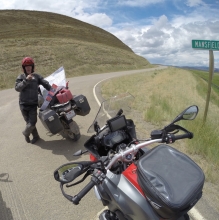 Neil Peart updated the news page on his website earlier this week with the third installment in his BubbaGram series. If you recall from his first BubbaGram update from earlier in the fall, Neil indicated that he'd be working on a book to chronicle the R40 Live tour. So in lieu of his regular news updates over the next year or so he is instead periodically posting a BubbaGram where he posts a couple photos from his travels along with a few paragraphs describing the photos. In this latest Bubbagram, Neil posts a couple of photos from a day off between shows in Salt Lake City and Calgary on the 3rd and final leg of the R40 Live tour which you can check out here.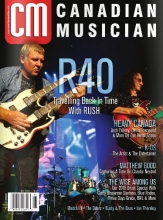 Rush's R40 Live tour is the subject of the cover feature in the November/December, 2015 issue of Canadian Musician magazine. Geddy Lee and Alex Lifeson were interviewed for the feature where they break down the R40 Live setlist and stage show, describing how and why certain songs were selected, how the videos came about, and their favorite parts of the show. You can read the entire article online at this location on pages 35-38, or read a transcription of the article here. As a tie-in to the cover feature, Canadian Musician is running an #IMARUSHFAN contest via Facebook where the winner receives a prize pack including the magazine, an R40 Live 3-disc CD/Blu-ray Combo, an R40 skull t-shirt, an R40 blue t-shirt, R40 wristbands, a pair of Neil Peart R40 ProMark drumsticks, Rush FAQ, Rush: The Illustrated History, a Rush Starman lunchbox, and a Hemispheres wall poster. For all the details and to enter go to this location.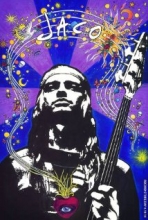 Jaco is a documentary film on legendary bassist Jaco Pastorius produced by Metallica bassist Robert Trujillo and directed by Paul Marchand and Stephan Kijak. Geddy Lee is one of the many musicians interviewed for the film and a short snippet of Geddy discussing fusion music from the documentary can be seen on YouTube here. The film was first screened last year at the Mill Valley Film Festival on October 6th and at the Grammy Museum on December 8th. It also headlined the first annual Asbury Park Music in Film Festival this past April where it was awarded the Foundation Award (Presented to the Asbury Park Music Foundation's selection for the APMFF premier film). The film was finally made available for purchase last Friday via various on-demand/streaming services, digital download and on DVD/Blu-Ray. An associated soundtrack was also released via Sony/Legacy and that is available to order here. The film's producer - Metallica bassist Robert Trujillo - along with the Red Hot Chili Peppers' Flea were guests on a recent episode of Marc Maron's WTF podcast (#656) to speak about the film and several other topics. Rush was brought up at a couple of points. About 45 minutes in Trujillo mentions Rush's La Villa Strangiato, and a more extended discussion of Rush takes place at the 1:23:00 mark. You can listen to the podcast online at this location (thanks Dave H).
Gibson Custom recently announced the release of a new limited edition Alex Lifeson signature double-neck guitar as described in this TheMusicZoo.com article. Alex recently visited the Gibson Custom shop to check out the new guitars as seen in this Facebook photo (thanks RushFanForever). The Music Zoo has 3 of these guitars in stock including one signed by Alex Lifeson as seen here.
Ultimate Classic Rock has been running yet another bracket contest over the last several weeks - this time in celebration of the upcoming release of the next Star Wars movie later this month. They are calling the contest Rock Star Wars and they are pitting space-themed rock songs against one another. They've whittled the field down to eight spacey rock songs and Rush's Cygnus-X1 is currently up against David Bowie's Space Oddity. So go vote for Rush! And speaking of Ultimate Classic Rock, a couple of weeks ago they opened up voting in their 2015 Ultimate Classic Rock Awards and Rush is in the running in several categories including Artist of the Year, Reissue of the Year for their vinyl reissue campaign, Live Album or Video of the Year for R40 Live, and Tour of the Year for the R40 Live tour. Rush needs your help in the voting, so go vote for Rush!! Voting is open until January 4th at 4PM.
New York's Q104.3 posted their list of the Top 104 Songs of All Time yesterday and three Rush songs made the cut; Limelight at #87, Red Barchetta at #54, and The Spirit of Radio at #75. You can check out the full list at this location.

Facebook reader Ed S found this really cool Rush-themed model on the Sci-Fi and space models and ship collections page. It's a model representation of a verse from Rush's Red Barchetta titled Red Barchetta and the One Lane Bridge. You can check out a bunch of great photos of the model here.
The Holiday season is now upon us and it's time to start thinking about gifts to buy for all of your Rush fan friends (or for yourself!). Earlier this week I posted a little Rush fan holiday gift guide where I highlight some of the gift options available on Amazon. Other than the obvious choice of the band's R40 Live concert video, there are a bunch of great gift ideas to choose from. For all the vinylphiles out there, just about all of Rush's albums were reissued on vinyl over the past year with a few more due to release over the next several weeks. Grace Under Pressure, Power Windows, Hold Your Fire, and A Show of Hands are all due to release later this month, with Hold Your Fire, Feedback and Snakes & Arrows available in January. All titles are high-quality vinyl with a 320kbps MP4 Digital Audio download code. You can check out all of the vinyl reissues here.
Into bootlegs? On December 11th a live radio broadcast recording of a December, 1974 Rush appearance at the Electric Lady Studios in New York City will be released on both CD and 180-g vinyl. It's titled The Lady Gone Electric and was originally recorded in front of a small audience of around 10 people for FM radio broadcast. It's not an official Rush release, but is similar to the Spirit of the Airwaves and Rush ABC 1974 live releases from a few years back, in that it is essentially a packaged release of a radio broadcast bootleg recording that's been around for many years.
Calendars make great gifts, and this year Rush fans have two official calendars to choose from. There's this 12"x12", 18-month calendar from Browntrout Publishers. Then there's this 12"x12", 16-month calendar with a 2112 theme from NMR Distribution.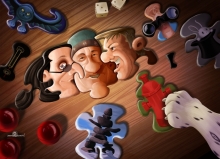 There were a TON of Rush books released over the last year or so including my favorite - this beautiful, Rush Toons book from FANTOONS packed with 180 pages of Rush comic strips, parodies, art and illustrations. For the more serious-minded Rush fan, there's Neil Peart: Cultural Repercussions, Rush: Life, Liberty, and the Pursuit of Excellence, and Experiencing Rush: A Listener's Companion. There's also Rush: The Illustrated History and the Rush FAQ to add to the long list of Rush biographies. Kevin J. Anderson and Neil Peart were busy this past year with their Clockwork Angels companion novel Clockwork Lives, the Clockwork Angels graphic novel and Clockwork Angels: The Comic Scripts.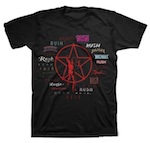 There are also many Rush t-shirts available including this popular Evolution of the Rush logo t-shirt, and this KISS-themed Rush t-shirt depicting Geddy, Alex and Neil with KISS makeup and RUSH spelled out using the classic KISS font. You can see all the Rush t-shirts Amazon has to offer here.


If you are planning a holiday party (maybe an R40 Live watch party?), a set of Rush drink coasters will be a big hit. There are also a couple of Rush ashtrays for the smokers (Starman, Fly By Night), and some Rush mugs (2112, Moving Pictures) to fill up with coffee for recovering from your hangover the next morning.
For all of the Rush fan musicians (there are a lot of those!) out there, there's this Perris Leathers Rush Guitar Strap, this set of Rush guitar picks, and some 40th anniversary Neil Peart ProMark drumsticks.


Every Rush fan would love a set of Rush Bobblehead dolls, some Rush playing cards along with this Rush card tin, or a Rush lunchbox with a 2112 Starman or the Rush logo. Have other gift ideas for Rush fans? Let us know in the comments and have a happy #RushMas!
Rush fan Jon Gregory is an editor/art director at Concepts TV Productions who recently produced a professionally-shot Rush R40 Live fan-focused mini-documentary capturing the fan experience of Rush's R40 Live tour. Jon speaks at length about the documentary in this recent SHOOTING From The LIP podcast with hosts Kevin and Russ, and this past Monday he officially launched the 9-minute documentary on YouTube. You can watch it below or on YouTube at this location.
That's all for this week. Have a great weekend everybody!