UPDATE - 1/26@1:37PM: Power Windows has a great page of scans from the February shows where this was recorded, including ticket stubs, adverts, and scans of the LPs given to radio stations that broadcast the concert.
UPDATE - 1/26@9:14AM: Readers Leif and stergios2112 note in the comments that the iTunes Europe listing and vinyl listings show that La Villa Strangiato is included; the Amazon listing is likely in error.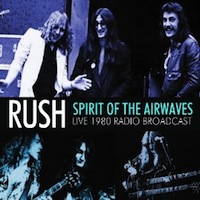 A live radio broadcast recording of a 1980 Rush concert will be released on CD and vinyl in Europe this coming March. It's titled Spirit of the Airwaves and was recorded at a February, 1980 show at the Kiel Auditorium in St. Louis during the Permanent Waves tour. It was actually already made available for digital download this past December 9th and can currently be purchased on iTunes and other digital music providers in Europe. It will be available in the US and Canada as an import only - likely due to legal issues as it's not an official Rush release. Similar to the Rush ABC 1974 live release from a few years back, this is essentially a packaged release of a bootleg that's been around for many years; namely the St. Louis '80 bootleg that was sourced from a direct A/D transfer of the original 4LP record set provided to radio stations for broadcast. Here's the tracklisting as given by iTunes UK:
1. 2112: Overture 4:36
2. The Temples of Syrinx 2:16
3. Discovery 0:30
4. Presentation 2:35
5. Soliloquy 2:25
6. Grand Finale 2:29
7. By-Tor and the Snow Dog 5:14
8. Xanadu 12:17
9. The Spirit of Radio 5:19
10. Natural Science 8:24
11. Beneath, Between, Behind 2:29
12. Working Man 3:30
13. Finding My Way Intro 0:23
14. Anthem 1:40
15. Bastille Day 1:28
16. In the Mood 2:39
17. Drum Solo 5:11
18. La Villa Strangiato 9:51
Thanks to treyalex for the heads up.