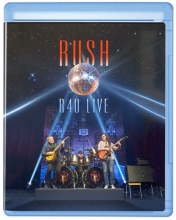 The Holiday season is now upon us and it's time to start thinking about gifts to buy for all of your Rush fan friends (or for yourself!). Luckily there are many options to choose from this year. First and foremost on the list is the band's recently released R40 Live concert video, which is available as 2 DVDs, 1 Blu-ray disc or 3 Audio CDs along with various combo packages. Previews of several tracks from the film are available for viewing on the Rush YouTube channel. R40 Live's tracklisting mirrors the Friday, June 19th Toronto show setlist, with One Little Victory, Distant Early Warning and Red Barchetta from the June 17th Toronto show as bonus material on the DVD/Blu-ray. The CD also includes audio for Clockwork Angels, The Wreckers, The Camera Eye and Losing It with Jonathan Dinklage as bonus material. You can order the various R40 Live packages at the following locations:
[3-disc CD/Blu-ray Combo]
[3-disc CD/DVD Combo]
[3 Audio CDs]
[Blu-ray only]
[DVD only]
For all the vinylphiles out there, just about all of Rush's albums were reissued on vinyl over the past year with a few more due to release over the next several weeks. Grace Under Pressure, Power Windows, Hold Your Fire, and A Show of Hands are all due to release next month, with Feedback and Snakes & Arrows available in January. All titles are high-quality vinyl with a 320kbps MP4 Digital Audio download code. You can check out all of the vinyl reissues here.
Into bootlegs? On December 11th a live radio broadcast recording of a December, 1974 Rush appearance at the Electric Lady Studios in New York City will be released on both CD and 180-g vinyl. It's titled The Lady Gone Electric and was originally recorded in front of a small audience of around 10 people for FM radio broadcast. It's not an official Rush release, but is similar to the Spirit of the Airwaves and Rush ABC 1974 live releases from a few years back, in that it is essentially a packaged release of a radio broadcast bootleg recording that's been around for many years.
Calendars make great gifts, and this year Rush fans have two official calendars to choose from. There's this 12"x12", 18-month calendar from Browntrout Publishers. Then there's this 12"x12", 16-month calendar with a 2112 theme from NMR Distribution.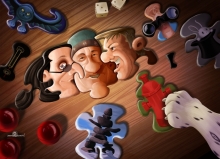 There were a TON of Rush books released over the last year or so including my favorite - this beautiful, Rush Toons book from FANTOONS packed with 180 pages of Rush comic strips, parodies, art and illustrations. For the more serious-minded Rush fan, there's Neil Peart: Cultural Repercussions, Rush: Life, Liberty, and the Pursuit of Excellence, and Experiencing Rush: A Listener's Companion. There's also Rush: The Illustrated History and the Rush FAQ to add to the long list of Rush biographies. Kevin J. Anderson and Neil Peart were busy this past year with their Clockwork Angels companion novel Clockwork Lives, the Clockwork Angels graphic novel and Clockwork Angels: The Comic Scripts.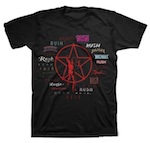 There are also many Rush t-shirts available including this popular Evolution of the Rush logo t-shirt, and this KISS-themed Rush t-shirt depicting Geddy, Alex and Neil with KISS makeup and RUSH spelled out using the classic KISS font. You can see all the Rush t-shirts Amazon has to offer here.


If you are planning a holiday party (maybe an R40 Live watch party?), a set of Rush drink coasters will be a big hit. There are also a couple of Rush ashtrays for the smokers (Starman, Fly By Night), and some Rush mugs (2112, Moving Pictures) to fill up with coffee for recovering from your hangover the next morning.
For all of the Rush fan musicians (there are a lot of those!) out there, there's this Perris Leathers Rush Guitar Strap, this set of Rush guitar picks, and some 40th anniversary Neil Peart ProMark drumsticks.


Every Rush fan would love a set of Rush Bobblehead dolls, some Rush playing cards along with this Rush card tin, or a Rush lunchbox with a 2112 Starman or the Rush logo. Have other gift ideas for Rush fans? Let us know in the comments and have a happy #RushMas!