UPDATE - 11/21@7:13PM: John at Cygnus-X1.net has posted the liner notes, track list, artwork and more here.
UPDATE - 11/20@9:57AM: Eric at Power Windows has transcribed the liner notes and made them available online here.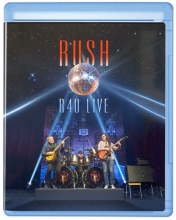 Rush's R40 Live concert film officially releases today in North America just in time for the Holidays, and is available as 2 DVDs, 1 Blu-ray disc or 3 Audio CDs along with various combo packages. Unfortunately it looks like the European release has been delayed until December 4th for unknown reasons. The Rush Backstage Club includes an optional t-shirt (seen here) with any purchase, and Best Buy's package includes a Rush Starman flashlight. Previews of Xanadu, Subdivisions, Tom Sawyer, The Spirit of Radio, Roll the Bones, Closer to the Heart, and Jacob's Ladder are available for viewing online, along with a 2-minute trailer for the film here. R40 Live's tracklisting mirrors the Friday, June 19th Toronto show setlist, with One Little Victory, Distant Early Warning and Red Barchetta from the June 17th Toronto show as bonus material on the DVD/Blu-ray. The CD will also include audio for Clockwork Angels, The Wreckers, The Camera Eye and Losing It with Jonathan Dinklage as bonus material. Last week Sirius XM's Classic Rewind (Channel 25) hosted the radio premiere of the R40 Live CD, and they'll continue to broadcast the audio every other day or so from now through December 6th with the full broadcast schedule available here. There was also a special London, UK screening of the film this past Tuesday. Popmatters.com has already posted a review of the video and they give it 7/10 saying the following:
... [Rush] give it their best every time, and R40 Live is no different. Fans should add this to their collection for the great performance, but also for its historical significance. It may be the last major tour stop at the band's home city of Toronto. They say that they aren't officially retired, so perhaps we'll hear more of them in the future. But if not, then R40 Live is a fine closing chapter for a band whose rock and roll legacy is peerless.
You can order the various R40 Live packages at the following links:
[3-disc CD/Blu-ray Combo]
[3-disc CD/DVD Combo]
[3 Audio CDs]
[Blu-ray only]
[DVD only]
Related Posts:
[Rush's Xanadu (Live) video from their upcoming R40 Live CD/DVD/Blu-ray available online]
[Rush's Subdivisions (Live) video from their upcoming R40 Live CD/DVD/Blu-ray available online]
[Rush's R40 Live radio premiere this Monday on Sirius XM, Tom Sawyer video preview online]
[Rush's The Spirit of Radio (Live) video from their upcoming R40 Live CD/DVD/Blu-ray available online]
[Rush's Closer to the Heart (Live) audio/video from their upcoming R40 Live CD/DVD/Blu-ray available online]
[Rush R40 Live concert film London, UK screening]
[Rush's Jacob's Ladder (Live) video from their upcoming R40 Live CD/DVD/Blu-ray available online]
[Rush's upcoming R40 Live CD/DVD/Blu-ray: details, cover, tracklist and pre-order now available]
[Rush's upcoming R40 Live CD/DVD/Blu-ray now available for pre-order]
[Rush's Roll the Bones video from their upcoming R40 Live CD/DVD available online]
[Rush's Roll the Bones single from their upcoming R40 Live CD/DVD now available]
[Rush's R40 Live CD/DVD to release November 20th, Roll the Bones single available next week]
[Rush R40 Live tour Toronto show #2 open thread]
[Rush R40 Live tour Toronto show #1 open thread]