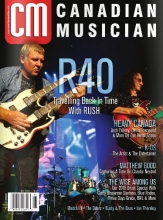 Rush's R40 Live tour is the subject of a cover feature in the November/December, 2015 issue of Canadian Musician magazine. Geddy Lee and Alex Lifeson were interviewed for the feature where they break down the R40 Live setlist and stage show, describing how and why certain songs were selected, how the videos came about, and their favorite parts of the show. The interview ends with Geddy remarking on how the tour was designed to be fan-focused:
... "This whole tour was really driven by the fans," [Lee] says, reflecting on R40. "The design of the show, the song list, and a lot of the [video] content on the rear screen was all us saying thank you to our fans, because that's really the nature of an anniversary, in my view - especially due to the circumstances that this was our last tour, or potentially our last tour, so we really needed to say thank you the proper way". The Rush faithful have likely flagged the addition of "potentially" to that last remark with a spark of optimism, and Lifeson puts a bit of fuel on that potential fire by adding, "I'm slowly getting used to the idea that we may not be touring anymore". ...
You can read the entire article online at this location on pages 35-38 (thanks RushFanForever). Eric at Power Windows has also transcribed the article here.