Rush fans will be getting their fill of Geddy Lee on TV this weekend. Geddy will be the special guest on the season 14 debut episode of VH1 Classic's That Metal Show tomorrow evening at 9PM. He'll also be the featured guest on the series premiere of VH1 Classic's Rock Icons immediately following the debut episode of That Metal Show. VH1 Classic posted a couple of preview clips from the debut episode of Rock Icons this morning which you can check out at this link. In the first video Geddy compares rock stars to superheroes, and in the second he talks a bit about the evolution of Rush's sound over the years. The season premiere episode of That Metal Show was taped this past Tuesday and host Eddie Trunk posted a recap of the taping to his website:
... I did ask Ged if this is the last tour, future plans and even talked some baseball. We also show a new release of 2112 and find out what his favorite and least favorite Rush albums are! Had a blast! Can't thanks Geddy enough for returning to the show and being such a great guest. The Rush guys all have a great sense of humor as well and know what it means to be fans and have always been so cool with me. Honored to have their support. Geddy flew to NYC just to do TMS which is so awesome! ... was so cool to have [John] Petrucci on who was a kid in a candy store around Geddy. ...
Trunk also posted this photo of himself and Geddy from the taping to his Facebook page, and he was interviewed by Glide magazine earlier this week to talk about the show. Geddy also called in to the syndicated radio show On Tap presented by VH1 Classic Wednesday night to talk about his appearance on both shows. Last week Rush posted a 30-second, VH1 Classic promo spot for both premieres to their Facebook page. The commercial features a few shots of Geddy Lee, including a short interview snippet from Rock Icons, and you can watch the whole thing at this location. There's also a 30-second teaser trailer for Rock Icons that includes a few shots of Geddy, and you can listen to Sam Dunn of Banger Films discuss the series in this VH1 interview.
As if That Metal Show and Rock Icons wasn't enough already, Geddy Lee's Speakeasy interview with Michael Chabon began airing on a few PBS stations over the last few weeks. It will be airing this coming Sunday at 11PM on NJTV in the New York and Philadelphia markets (thanks PhillyMike). It also will be airing on several other PBS channels across the country at different times over the next several weeks, and the Speakeasy website now has a list of stations along with the date/time each one is showing the episode at this location. Speakeasy is also running a contest where the winner gets an official signed poster from the episode. For all the details and to enter go to this location (thanks cpb).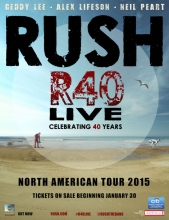 Ticket sales for Rush's upcoming R40 Live tour seem to be doing pretty well judging by the tickets listed as available at Ticketmaster. A few shows are already showing the dreaded no tickets available message (Austin and Toronto for example), and only upper bowl seats or resales are available at many other venues. The tour will hit 34 cities across North America beginning in Tulsa, OK on May 8th and ending at The Forum in Los Angeles on August 1st. There are still very few details regarding the tour, but recent interviews with both Neil Peart and Alex Lifeson tend to indicate that the tour will take a retrospective look at Rush's 40-year career and include a good bit of older material that the band will alternate from night to night in some way. There also won't be any new material played or any opening band (they haven't had an opening band in over 20 years), and it sounds as if things will be stripped down a bit compared to other tours. Hopefully Geddy Lee will have more to reveal in his interviews this weekend. We can also probably safely assume that they will be taping the show at some point given that they've captured every tour since Vapor Trails for later release on DVD. They generally tend to tape shows towards the end of a tour, and usually like to have an extra day of rest beforehand. They also usually tape a couple back-to-back shows - one show as backup and another as primary. Given all this, I'd speculate (I don't have any inside info) that they'd be taping one of the west coast shows with LA a very likely possibility (although the Toronto shows might work as well). Speaking of which, the folks at RushCon announced Wednesday that their 15th annual convention will take place July 31st to August 2nd in Los Angeles to coincide with Rush's show there - the final stop on the R40 tour. This will mark the first time RushCon has ever been held outside of Rush's hometown of Toronto, however, there will still be a mini-con held in Toronto on June 19-20 to coincide with Rush's tour stops there. Visit RushCon.org for all the details, and be sure to follow RushCon on Facebook and Twitter for all the latest updates.

There won't be any strings on the upcoming tour, but members of the Clockwork Angels String Ensemble from Rush's 2012-13 tour are keeping themselves busy. A few of the members (Audrey, Mario, Joel and Gerry) had a mini-reunion of sorts when they played as part of a 38-piece orchestra with glam rock/synth pop band Sparks at the Ace Theatre in downtown LA February 14th and 15th. Here's a photo courtesy Kelly D showing Audrey, Mario and Gerry.
Rush announced back in December that they will be releasing all of the Mercury-era Rush albums on vinyl along with a few select titles on Blu-ray audio throughout 2015. They are calling it the 12 Months of Rush, as they will be releasing one or two titles a month each month. They started with Fly By Night which released last month (Vinyl, Blu-ray Audio), and will continue with Caress of Steel which will release on vinyl this coming Tuesday, February 24th. All titles will be reissued on high-quality vinyl with a 320kbps MP4 Digital Audio download code, with Fly By Night, A Farewell to Kings and Signals also getting a Blu-ray Audio release. You can get all the details in the Rush.com press release. Fly By Night is already available on vinyl and/or Blu-ray Audio, and you can pre-order Caress of Steel and several of the other titles at the links below:
Caress of Steel (02/24/15) - Vinyl
2112 (03/17/15) - Vinyl
All the World's a Stage (03/17/15) - Vinyl
A Farewell to Kings (04/21/15) - Vinyl | Blu-ray Audio
Hemispheres (05/19/15) - Vinyl
Permanent Waves (06/16/15) - Vinyl
Moving Pictures (07/21/15) - Vinyl
Exit ... Stage Left (07/21/15) - Vinyl
Signals (08/18/15) - Vinyl | Blu-ray Audio
Grace Under Pressure (09/15/15) - Vinyl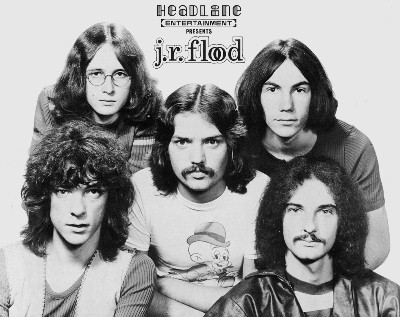 Back in late 2009 documentary filmmaker Paul Miil released a film via YouTube titled The Big Story of Small Potatoes which explored the Niagara music scene of the late 60's and early 70's of which Neil Peart played a major part. The film was originally intended to focus on Neil Peart but later increased in scope as he conducted his research. Miil still planned on releasing a Peart-focused documentary at some future point though, and earlier this week posted his 48-minute Origin of Neil Peart film to YouTube. The documentary includes a lot of footage not originally included the Big Story of Small Potatoes doc. Just like the original, Neil Peart himself was not interviewed for the film but several of his former pre-Rush bandmates are, including members of The Majority, Hush and J.R. Flood. Coincidentally, just last week a 1970 demo tape (full album) recording of Neil playing drums with J.R. Flood was made available online. You can watch the entire Origin of Neil Peart film on YouTube here.
J. Christian Adams wrote a piece this past week for PJMedia.com where he lists out his 6 best Rush albums in celebration of R40. Moving Pictures not surprisingly was #1 and you can check out the complete list here.
Harry Connick, Jr. played Atlanta's Cobb Energy Center this past Monday night. Just before playing Bourbon Street Parade he called up trombonist Lucien Barbarin to the front of the stage and said, "Lucious doesn't play for just anybody. He might not even come out to play with Neil Peart, but here he is". Thanks to Will C for the heads up.
Police drummer Stewart Copeland is known for his Sacred Grove jam sessions where he invites his musician friends over to his home studio to mess around on various instruments. Copeland's friend and fellow drummer Neil Peart has been involved in these sessions in the past, and earlier this week Copeland posted video of another recent session titled A Little More Noise involving Peart along with Danny Carey (Tool), Matt Stone (South Park) and Matt Scannell (Vertical Horizon). You can watch the video below or on Copeland's YouTube channel here. From the video's description:
Some new drums arrived so Peart and Carey came over to lay heavy hands upon them. Scannell and I banged out any old riffs while Stone chimed the gongs. Couple days later four MORE drummers dropped by and took up the horns. The piano was an afterthought. ...with Mike Dolbear, Thomas Lang, Dave Elich & Aaron Sterling.
Copeland also hosted a jam session with Peart, Carey and Les Claypool back in 2011. That track/video was titled Count Drumula! and featured all four guys trading off on drum duties along with Claypool on a stand-up bass and Carey playing a trombone. You can see a video from that session here. There was also a lost session at one point that involved Alex Lifeson and Peart as Copeland describes in this post.
That's all for this week. Have a great weekend, stay warm, and don't forget to watch Geddy on VH1 Classic tomorrow night!