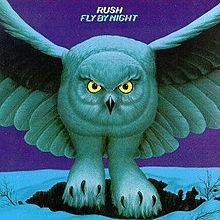 As a follow-up to yesterday's post regarding the release of Fly By Night on vinyl and Blu-ray audio next month, it seems that Rush won't be stopping with that album and will be releasing all of the Mercury-era Rush albums on vinyl and select titles on Blu-ray audio next year. They are calling it the 12 Months of Rush:
All titles will be reissued on high-quality VINYL with a download card for Digital Audio version, high resolution Digital Audio releases, while three titles will also be released on Blu-ray Pure Audio.

Earlier this year, Universal Music Enterprises (UMe) kicked off its own celebration of the band's 40th anniversary with the reissue of Rush's self-titled 1974 debut.

In 2015, vocalist/bassist/keyboardist Geddy Lee, guitarist Alex Lifeson and drummer Neil Peart, who joined the band in July, 1974, shortly after the release of that first album and two weeks before the group's inaugural U.S. tour, will see the reissue of the remaining 14 albums in their Mercury catalog in chronological order. Starting on January 27 with Fly By Night, which will be available in high-quality vinyl with a download code for a 320kbps MP4 vinyl ripped Digital Audio album download; high resolution Digital Audio editions in DSD (2.8mHz), 192khz / 24-bit, 96kHz / 24-bit; and an additional Blu-Ray Pure Audio version with 96kHz / 24-bit 5.1 surround sound and stereo. A Farewell to Kings and Signals are the other two albums which will be reissued in Blu-Ray Pure Audio. The remaining 13 titles will be released one or two a month through the end of the year. ...
For all the details, check out the Rush.com press release. As of right now you can already pre-order several of these titles. Here are the pre-order links along with their release dates:
Fly By Night (01/27/15) [Vinyl] [Blu-ray audio]
Caress of Steel (02/17/15) [Vinyl]
2112 (03/17/15) [Vinyl]
All the World's a Stage (03/17/15) [Vinyl]
A Farewell to Kings (04/21/15) [Vinyl] [Blu-ray Audio]
Hemispheres (05/19/15) [Vinyl]
Permanent Waves (06/16/15) [Vinyl]
Moving Pictures (07/21/15) [Vinyl]
Exit ... Stage Left (07/21/15) [Vinyl]
Signals (08/18/15) [Vinyl] [Blu-ray Audio]
Grace Under Pressure (09/15/15) [Vinyl]
The other titles should become available closer to their release date. Thanks to Jeff B for the heads up.