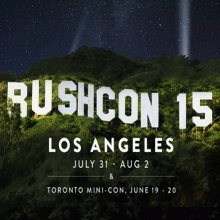 The folks at RushCon have just announced that their 15th annual convention will take place July 31st to August 2nd in Los Angeles - the first time it's ever been held outside of Rush's hometown of Toronto. However, there will still be a mini-con held in Toronto on June 19-20 to coincide with Rush's tour stops there. More details to follow in the coming weeks. From RushCon.org:
To celebrate the 40th anniversary of Rush, and in conjunction with the 34-city R40 LIVE Tour, RushCon is excited to announce RushCon 15 will be held twice, in two locations, a Mini-Con in Toronto, and for the first-time ever in Los Angeles.

We are so grateful for the fans who have made the trip up to the Great White North every year. But this year, we wanted to add something different. We want RushCon to be accessible to everyone. If this is Rush's last big tour, we want it to go out with a bang and to celebrate big. So we are having two conventions this summer.