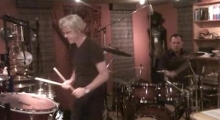 Police drummer Stewart Copeland recently sat down with Radio.com for an interview to discuss the new 2 Unite All benefit compilation album that he's involved with to help raise funds for humanitarian aid to Palestinians in Gaza. They get on the subject of Copeland's Sacred Grove jam sessions that he conducts with other musicians at his home studio, and he talks about one particular session with Neil Peart and Alex Lifeson (thanks RushFanForever):
... I had the Rush guys, Neil Peart and Alex Lifeson, over here, and we jammed through the night. We banged every drum, Neil and I had the drum battle from hell, Alex played every guitar, cello, horn, it was just music all night. And then I started cutting it and putting it together, and Les Claypool came over and he sang [Rush's 1975 epic] "By-Tor and the Snow Dog" or something like that over the sessions. And so I'm editing it together, and I pull out my fancy-schmancy film-scoring tools, my orchestral samples, and built this huge track. And then my hard drive crashed! And I sent it to two or three different "drive doctors," who all charged a fortune, and none of them could rescue the disc. And I hadn't even done a rough mix. I was a little crushed by all that. That kind of popped the balloon on the whole thing. ...
Copeland also hosted a jam session with Peart,Tool drummer Danny Carey, and Les Claypool back in 2011. That track/video was titled Count Drumula! and featured all four guys trading off on drum duties along with Claypool on a stand-up bass and Carey playing a trombone. You can see a video from that session here.