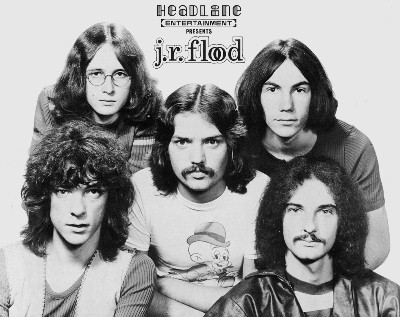 Along with Mumblin' Sumpthin' and The Majority, J.R. Flood was one of the bands Neil Peart was a member of while growing up in Southern Ontario in the late '60s and early '70s. Here's Neil talking about the band in a May, 2010 post on NeilPeart.net:
It was a summer Saturday in 1970, and I was playing with the band J. R. Flood in St. Catharines, Ontario. We were set up on the back of a flatbed trailer on James Street, closed to traffic for a Saturday "whoopee." The idea was for us to entertain the youngsters, confound the adults, and share a $250 fee. Pictured [referencing a photo included in the original NeilPeart.net post] are the late organist Bob Morrison and guitarist Paul Dickinson, and we had bass guitarist Wally Tomczuk and singer Gary Luciani. I was seventeen.

All of those guys were pivotal in my musical development-each in his own way. Bob as a consummate, consumed artist; Paul as an exacting, disciplined, yet passionate musician; Wally as a solidly-grounded person whose equally grounded bass playing kept my flights of fancy rooted in "real time;" and Gary as a lead singer, lyricist, and front man who somehow managed to leave ego out of that job description (and who was the first singer to sing my lyrics). ...
Just last week someone posted the full audio from a 1970 J.R. Flood demo tape to YouTube, which is likely one of the earliest (if not the earliest) recordings of Neil Peart. You can listen to it below or at this location (thanks Sean). From the YouTube description:
JR Flood Demo Tape - 1970 Neil Peart on Drums
Track listing. Tracks 8, 9 10 actually announce the song title in the recording. But I gave tracks 1 - 7 a name based on the lyrics, I don't know the "real names".

01 Retribution #1 3:31 00:00
02 Retribution #2 3:46 03:46
03 Gypsy 4:22 07:01
04 Life's Illusion 3:51 11:22
05 Come Inside 4:04 15:02
06 Lost Dreams 3:46 19:15
07 Rolling Tide 5:48
08 Flaming Blackbird 4:22
09 Giant Killer (take 6) 8:51 33:19
10 Polar Bear 9:57 41:52

JR Flood
late organist - Bob Morrison
guitarist - Paul Dickinson,
bass guitarist - Wally Tomczuk
singer, lyrics - Gary Luciani
drums, lyrics - Neil Peart