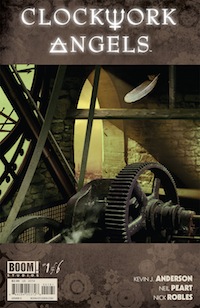 The first of six issues of the graphic novel version of Clockwork Angels released a couple of weeks ago. Just prior to the release, author Kevin J. Anderson wrote an article for Rush.com titled Meet the Watchmaker but it somehow fell through the cracks and was never published. So Anderson instead decided to go ahead and publish the article to his personal blog here. The article talks about how Anderson and Neil Peart came up with the concept behind Clockwork Angels, and explains the story of how the graphic novel developed. The article includes some nice quotes from Peart too including this one:
"It occurs to me now that not only have I grown up with comic books, but comic books have grown up with me. The rise of the graphic novel has been a wonderful evolution, and I am very pleased that Clockwork Angels will be appearing in that genre. Kevin's words and Nick's art are making my visions live and breathe - a phenomenon I call "artificial reality" - and it is exciting to be a part of it."
As I'd mentioned above, the first issue of the graphic novel was released a couple of weeks ago and there are a number of different covers of available as described in this post. There are 3 standard covers of the 1st issue available (Cover A, Cover B, and Cover C) along with another exclusive Rush and BOOM! Studios cover. The A, B, and C covers are available in comic stores, but the exclusive cover can only be purchased via the Rush Backstage Club or through BOOM! Studios. There are also a number of different subscription packages available as shown on the BOOM! Studios website. Subsequent issues of the graphic novel series will have 2 covers available; the standard cover and the Rush/BOOM! Studios exclusive cover. There was also an exclusive cover of the first issue available for purchase at the Emerald City Comic Con in Seattle last weekend, and yet another exclusive cover available only at Larry's Comics.
Related Posts:
[Clockwork Angels graphic novel issue #1 preview]
[Clockwork Angels graphic novel cover art updates]
[Clockwork Angels graphic novel cover art preview]
[Clockwork Angels graphic novel preview, new interview with Kevin J. Anderson and Neil Peart]
[Neil Peart and Kevin J. Anderson talk Clockwork Angels graphic novel in new interview]
[Kevin J. Anderson talks Clockwork Angels: The Graphic Novel in new interview]
[Clockwork Angels: The Graphic Novel now available for pre-order]
[Kevin J. Anderson, Neil Peart talk Clockwork Angels: The Graphic Novel in new USA Today article]
[Clockwork Angels: The Graphic Novel from Kevin J. Anderson coming April 2014]