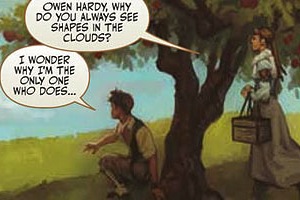 Comic Book Resources has posted a new interview with Neil Peart and Kevin J. Anderson where they discuss the upcoming graphic novel treatment of the Clockwork Angels novel. The article also includes a preview of 3 pages from issue #1 of the comic which is due to for release on March 19th. Here's Peart discussing his personal history with comics:
... "When I was growing up in the '50s and '60s, comic books were a very important part of my life. I devoured hundreds of them, I realize now -- all of the superheroes, and everything else from Archie and Veronica to 'Classics Illustrated,'" ... "On a family car trip, I might be allowed to select two new comic books from a drugstore rack, and that was about as thrilling as could be for a suburban Canadian boy. Over the years, I shared all the typical flashlight-under-the-blankets experiences. Comic books entertained me, delighted me, inspired me, and definitely taught me a few things, too," ... "In Grade 8 I won a public-speaking medal for a speech about General Douglas McArthur that was 'researched' in one of the World War II comics that were also popular in that era."... "It occurs to me now that not only have I grown up with comic books, but comic books have grown up with me," ... "The rise of the graphic novel has been a wonderful evolution, and I am very pleased that 'Clockwork Angels' will be appearing in that genre. Kevin's words and Nick's art are making my visions live and breathe -- a phenomenon I call 'artificial reality' -- and it is exciting to be a part of it." ...
You can read the entire article/interview and check out the previews at this location. Boom! Studios will be releasing the graphic novel in a series of six beginning on March 19th. The first issue along with a complete 6-issue subscription are now available for pre-order at the Boom! Studios website (Issue #1 for $3.99, 6-issue Subscription for $29.99). The paperback release of Clockwork Angels: The Novel will be availabl on May 13th and can be pre-ordered here.
Related Posts:
[Neil Peart and Kevin J. Anderson talk Clockwork Angels graphic novel in new interview]
[Kevin J. Anderson talks Clockwork Angels: The Graphic Novel in new interview]
[Clockwork Angels: The Graphic Novel now available for pre-order]
[Kevin J. Anderson, Neil Peart talk Clockwork Angels: The Graphic Novel in new USA Today article]
[Clockwork Angels: The Graphic Novel from Kevin J. Anderson coming April 2014]