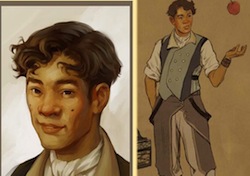 A few weeks ago Clockwork Angels: The Novel author Kevin J. Anderson announced plans via his blog for a graphic novel version of the book he co-wrote with Neil Peart. USA Today ran an article in today's edition containing some more details about the graphic novel including a sample of artist Nick Robles' character designs for the novel's young protagonist Owen Hardy, and some comments from both Anderson and Peart. The comic will be released as a six-issue Boom! Studios miniseries beginning next March. Here's what Anderson had to say:
... "It's just a beautifully painted world in the music that I tried to capture in the novel and now tried to turn into a different direction," says Anderson, who's working with artist newcomer Nick Robles. "Who knows, we might have ice follies someday or a Broadway musical." ...
And Peart adds the following when discussing the villains of the novel - The Anarchist and The Watchmaker:
... "Neither is your typical comic-book evil sociopath, but rather 'extremists' for order and for freedom. Good things taken too far - like good intentions, that excess paves many roads to damnation," the musician says. "As characters, they personify mystery, power and dark fascination, but they also have human weaknesses, like fear, pride and envy." ...
You can read the entire article online here (thanks RushFanForever).