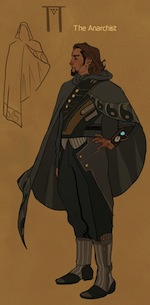 Neil Peart and Kevin J. Anderson recently sat down with PREVIEWSworld.com for an interview to discuss the upcoming graphic novel treatment of the Clockwork Angels novel. The pair discuss the concept behind Clockwork Angels and how it will translate to the graphic novel format. Anderson does most of the talking but Peart has the following to say regarding Nick Robles - the artist who'll be working on the graphic novel:
Nick has some big challenges ahead of him - while for Kevin and me, this graphic series is a huge and exciting step toward a fully-realized world of our own invention. Also, having been highly impressed by Nick's early sketches of characters and settings, I will be looking forward to seeing his visions of the grander backgrounds, like Crown City, the Carnival, and the Wreckers.
The article also includes a new concept drawing of The Anarchist. At one point the interviewer asks Anderson about a potential movie version of the story and who would be on his dream team for bringing Clockwork Angels to the big screen:
Wow, I try not to think in specifics like that. Visually, I love the work of Zack Snyder, how he pumps his visuals way out of the envelope. Clockwork Angels is a very personal story on a gigantic canvas. I would love to see it on the big screen.
There's no indication that any film version is in the works, but Anderson did tweet out the following earlier this week:
When you sign a movie contract before lunch, you know it's going to be a good day. Details as soon as I can announce them.
Could he be referring to a Clockwork Angels movie? We can only hope. You can read the entire PREVIEWSworld interview here. Boom! Studios will be releasing the graphic novel in a series of six beginning this coming March. The first issue along with a complete 6-issue subscription are now available for pre-order at the Boom! Studios website (Issue #1 for $3.99, 6-issue Subscription for $29.99). The paperback release of Clockwork Angels: The Novel will be availabl on May 13th and can be pre-ordered here.
Related Posts:
[Kevin J. Anderson talks Clockwork Angels: The Graphic Novel in new interview]
[Clockwork Angels: The Graphic Novel now available for pre-order]
[Kevin J. Anderson, Neil Peart talk Clockwork Angels: The Graphic Novel in new USA Today article]
[Clockwork Angels: The Graphic Novel from Kevin J. Anderson coming April 2014]