UPDATE - 3/21@1:18PM: Here's a lukewarm, 3/5 review from Bloody Disgusting.
UPDATE - 3/20@1:16PM: Kevin J. Anderson was interviewed for the Canadian SPACE Channel's Inner Space program earlier this week and spoke for a couple of minutes about the graphic novel and his collaboration with Neil Peart. You can check out the video of Anderson's appearance here (thanks bucklemyshoe).
UPDATE - 3/19@4:44PM: Here's yet another 5/5 review - this one from Comic Bastards.
UPDATE - 3/19@11:55AM: Here's a great 5/5 review of issue #1 from Big Comic Page.
... WOW! Robles' illustrations on this are nothing short of spectacular, managing to encapsulate perfectly the writing of Anderson and the feel that Peart gives to all of his works. The use of sepia tones to indicate present time is a nice touch as well, what with the story being mostly told in flashbacks, and gives the whole thing an almost 'Wizard of Oz' feel to it. Everything is so beautifully sculpted that a world is created that manages to be both Victorian Steampunk and Sci-Fi Opera. ...
----- snip -----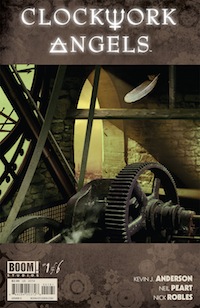 The first of six issues of the graphic novel version of Clockwork Angels releases tomorrow. Comicbook.com has posted a preview of the first several pages from the inaugural issue which you can check out here. There will be a number of different covers of the first issue made available as described in this post from last week. There will be 3 standard covers of the 1st issue available (Cover A, Cover B, and Cover C) along with another exclusive Rush and BOOM! Studios cover. The A, B, and C covers will be available in comic stores, but the exclusive cover can only be purchased via the Rush Backstage Club or through BOOM! Studios. There are also a number of different subscription packages available as shown on the BOOM! Studios website. Subsequent issues of the graphic novel series will have 2 covers available; the standard cover and the Rush/BOOM! Studios exclusive cover. There will also be an exclusive cover of the first issue available for purchase at the Emerald City Comic Con in Seattle on March 28th, and yet another exclusive cover available only at Larry's Comics.
Related Posts:
[Clockwork Angels graphic novel cover art updates]
[Clockwork Angels graphic novel cover art preview]
[Clockwork Angels graphic novel preview, new interview with Kevin J. Anderson and Neil Peart]
[Neil Peart and Kevin J. Anderson talk Clockwork Angels graphic novel in new interview]
[Kevin J. Anderson talks Clockwork Angels: The Graphic Novel in new interview]
[Clockwork Angels: The Graphic Novel now available for pre-order]
[Kevin J. Anderson, Neil Peart talk Clockwork Angels: The Graphic Novel in new USA Today article]
[Clockwork Angels: The Graphic Novel from Kevin J. Anderson coming April 2014]