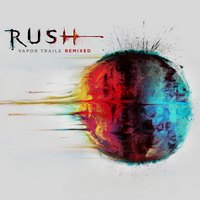 Canadian record producer David Bottrill is the man responsible for Rush's just released remix of 2002's Vapor Trails, and recently sat down with PopDose.com for an interview to discuss the remix. Bottrill had actually been on the short list of producers for the original release back in 2002. The band ultimately decided not to bring in an outside producer because they didn't want to introduce anything new or potentially uncomfortable for Neil at the time (Neil was still recovering from the passing of both his daughter and wife a few years earlier). Here's what Bottrill had to say about that decision:
... I spent a day with them in the studio, but that's as far as it went. In retrospect, as much as I would have loved to work with them at that time, I think it was probably the correct decision not to throw another new element into their working environment. I would not have wanted to be part of the reason that this great band was unable to revitalize. ...
And here are some of Bottrill's comments on the remix itself:
... When I approach any mix, I will reference any rough or previous mix lightly, to find balance or tones that the client might like. But in this case, I was aware that the band weren't happy with the final mixes they had, so I just approached it fresh with little referencing to the originals. My philosophy was that they didn't like what they had, so I would just work with the material they gave me and do what I thought would work best for each song. The first mix took the longest to complete, but that was only a couple of days. Once we were into the groove, the band usually only had little tweaks or suggestions and went mostly with what I presented them with. ...There was very little direction prior to starting. I did a test mix for them as did some other engineers and producers. They liked most of them, but I think that they had wanted to try to work with me for some time, so perhaps that swayed their opinion towards my mix as opposed to others. Andy Curran, who works with the band, is also a friend of mine and I think he was pulling for me to do the remix as well - and this may have had an influence. ...
Bottrill also addresses the newly uncovered guitar parts, particularly the new lead break in Ceiling Unlimited:
... [the Ceiling Unlimited lead break] sounded good to me. As I said, I just worked with the material they gave me. I didn't really check the originals to see what they used or didn't use. I liked that solo and put it in. I don't think many people have complained about that one so far. When a record is made, often times there are things that are recorded that are left out of the final mix. I had no attachment to the older mixes or what was left in or out. I just put in all the mixes what I thought worked the best. I don't think I left much out from the tracks they gave me. There was no really grand plan for the mixes. I just tried to make the songs all shine as much as I could. There was some talk in the fan press that the tracks were distorted in the recording process or that there have been new recordings done. Neither is true. The source recordings are top quality and we didn't add anything new from those early recordings. ...
You can read the entire article/interview at this location (thanks RushFanForever). Rush released the long-awaited remix/remaster of Vapor Trails along with a Rush: The Studio Albums 1989-2007 box set this past Monday. For my latest poll I'm asking everyone which song from Vapor Trails they think benefited the most from the remix? Please take the poll and let us know if you haven't already. You can order the Vapor Trails remix on CD or on 180g vinyl, and order the Atlantic-era The Studio Albums 1989-2007 box set here.
Related Posts:
[Andy VanDette on mastering Rush: The Studio Albums 1989-2007]
[Vapor Trails Remixed and Rush: The Studio Albums 1989-2007 box set released today]
[Photos of the Rush: The Studio Albums 1989-2007 box set and Vapor Trails Remixed, full album preview at RollingStone.com]
[Rush Vapor Trails Remixed higher quality, 30-second sample clips]
[Geddy Lee talks Clockwork Angels Tour video, Vapor Trails Remixed in new Rolling Stone interview]
[Alex Lifeson discusses Vapor Trails Remixed in new Classic Rock interview]
[Rush Vapor Trails Remixed 30-second sample clips now available]
[Long-awaited Vapor Trails remix coming October 1st, now available for pre-order]