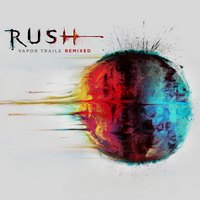 It's finally here! Today Rush releases their long-awaited remix/remaster of Vapor Trails along with a Rush: The Studio Albums 1989-2007 box set. Friday morning RollingStone.com posted a FULL preview of the album which you can listen to at this location. European reader RushFanBen already received his copies of the CD and box set on Friday and sent along some scans of the packaging for us which you can check out in this post. Geddy Lee had the following to say regarding the remix in a Rolling Stone interview from earlier this week:
... it was hard to get people onboard. "Why are you obsessing over this one record? You have 20 records. Why the fuck do you care about this one record?" I just felt it was so pivotal that the songs required some justice. We gave it one last kick of the can, and Andy from our management suggested that David Bottrill have a go at it. I thought it was kind of strange/full circle that the guy we almost used in the first place is trying to save it. We were on tour and Neil didn't want to have too much to do with it. The album has a lot of very painful memories for him. We said, "Don't worry. We're going to let David just follow his instincts and he'll do it while we're touring." David just got the record right away and started sending us mixes. Of course, we'd have comments here or there, but generally he understood what it should sound like. So, I'm very pleased with the end result. I think he's finally brought some completion and some justice to some of those songs we'd put so much of our heart and soul into.



For my latest poll I'm asking everyone which song from Vapor Trails they think benefited the most from the remix? Please take the poll and let us know if you haven't already. You can order the Vapor Trails remix on CD or on 180g vinyl, and order the Atlantic-era The Studio Albums 1989-2007 box set here.
Related Posts:
[Photos of the Rush: The Studio Albums 1989-2007 box set and Vapor Trails Remixed, full album preview at RollingStone.com]
[Rush Vapor Trails Remixed higher quality, 30-second sample clips]
[Geddy Lee talks Clockwork Angels Tour video, Vapor Trails Remixed in new Rolling Stone interview]
[Alex Lifeson discusses Vapor Trails Remixed in new Classic Rock interview]
[Rush Vapor Trails Remixed 30-second sample clips now available]
[Long-awaited Vapor Trails remix coming October 1st, now available for pre-order]