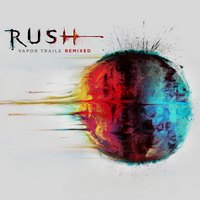 Rush will finally be releasing the long-awaited remix/remaster of their 2002 album Vapor Trails on Monday, September 30th. The album will be made available for purchase individually on CD or Vinyl, or as part of a new Atlantic-era Rush box set which releases the next day on October 1st. Alex Lifeson recently spoke with Classic Rock magazine about Vapor Trails Remixed and revealed why the original sound of the album bothered him:
The original mastering was the problem. It was poorly done. At the time we should have remastered. It bothered us forever - particularly Geddy, who had the task of remastering of the original album and feels responsible for it. It irked him for many years. The original version is hard on your ears, because the mastering was pushed so hard, there's distortion and so much compression - I found it very difficult to listen to it.
Alex goes on to talk about David Bottrell - who headed up the remix effort - and also explains how the new mix is different from the original:
It's much more pleasurable to listen to. Now, everything's open, you can hear everything, and everything has its place. It's so well-balanced. There's a sort of creaminess and a smoothness to the sound of it. It's so much more dynamic. Before, everything was just balls to the wall. Now it breathes.
Alex also touches on the band's future plans:
No. There are no definitive discussions about [touring] at this point. Right now it's only been a month since we got home and we really need three or four months to get it out of our system and then see what we feel like doing. But I think we're looking at spring of 2015 as the probable time to get back going again. ... Ged's been collecting bass guitars like a madman. He's covered the walls with all these vintage basses. He's playing them, and he's not one for playing when we're not touring. So I'm wondering if maybe he and I will sit down in the new year and do something. I'm just speculating. I'm not saying there are any plans for writing or anything like that. But if he's goofing around with his basses, that's a good sign for me.
You can read the entire interview online here. You can listen to some 30-second sample clips of the album online here. The clips are low-quality mp3s, but you can definitely still hear the difference from the original mix. You can pre-order the Vapor Trails remix at this location, and the Atlantic-era The Studio Albums 1989-2007 box set here. You can also pre-order the double LP 180g vinyl version of Vapor Trails here.
Related Posts:
[Rush Vapor Trails Remixed 30-second sample clips now available]
[Long-awaited Vapor Trails remix coming October 1st, now available for pre-order]