MasterDisk's Andy VanDette is the man behind remastering the albums contained in the recently released Rush: The Studio Albums 1989-2007 box set, as well as the previously released Sectors box sets containing Rush's Mercury catalog. The MasterDisk website posted a short Q&A with VanDette yesterday where he discusses the remaster effort and how it compared with the Mercury remasters, along with his thoughts on the original mix of Vapor Trails:
... I remember hearing [Vapor Trails] before it came out, and thinking "Wow, I guess this is why I will never work with Rush." ... The snare and vocal were so overshadowed by low end. I see why they had a hard time remastering the original mixes. So much of their energy is in the bottom octave 20-40Hz. You can roll it off, but so much of the mixes' punch came from that. It was just mixed that way. The David Bottrill remixes are very well balanced and musical.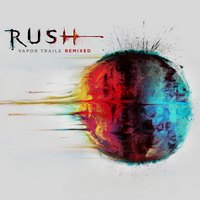 You can check out the complete interview here (thanks RushFanForever). Rush released the long-awaited remix/remaster of Vapor Trails along with a Rush: The Studio Albums 1989-2007 box set this past Monday. For my latest poll I'm asking everyone which song from Vapor Trails they think benefited the most from the remix? Please take the poll and let us know if you haven't already. You can order the Vapor Trails remix on CD or on 180g vinyl, and order the Atlantic-era The Studio Albums 1989-2007 box set here.
Related Posts:
[Vapor Trails Remixed and Rush: The Studio Albums 1989-2007 box set released today]
[Photos of the Rush: The Studio Albums 1989-2007 box set and Vapor Trails Remixed, full album preview at RollingStone.com]
[Rush Vapor Trails Remixed higher quality, 30-second sample clips]
[Geddy Lee talks Clockwork Angels Tour video, Vapor Trails Remixed in new Rolling Stone interview]
[Alex Lifeson discusses Vapor Trails Remixed in new Classic Rock interview]
[Rush Vapor Trails Remixed 30-second sample clips now available]
[Long-awaited Vapor Trails remix coming October 1st, now available for pre-order]