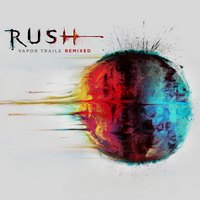 Rush will finally be releasing the long-awaited remix/remaster of their 2002 album Vapor Trails this coming October 1st. The album will be made available for purchase individually on CD or Vinyl, or as part of a new Atlantic-era Rush box set releasing on the same day. Amazon Germany now has 30-second sample clips of the album posted on their website at this location (thanks gornhay). The sample clips are not yet available at Amazon in North America or the UK though. Although the clips are just 30-second, mp3-quality snippets, you can definitely hear the difference from the original recordings. Here are Geddy Lee's comments about the remix from Rush.com:
... "Vapor Trails was an album made under difficult and emotional circumstances - sort of like Rush learning how to be Rush again - and as a result, mistakes were made that we have longed to correct. David Bottrill's remixes have finally brought some justice and clarity to this deserving body of our work," says Geddy Lee. "Every song has been given a new life, from the fire of 'One Little Victory,' 'Secret Touch,' and 'Ceiling Unlimited' to the melodic musicality of 'Sweet Miracle' and 'How It Is'... these songs have been redeemed. Thank you David!" ...
The David that Geddy refers to in the Rush.com post is Grammy-winning Canadian producer David Bottrill. You can pre-order the Vapor Trails remix at this location, and the Atlantic-era The Studio Albums 1989-2007 box set here. You can also pre-order the double LP 180g vinyl version of Vapor Trails here.