UPDATE - 10/4@1:15PM: Rush has finally released the official trailer for the Clockwork Angels Tour CD/DVD/Blu-ray. An unofficial trailer for the film has been floating around the internet since back in June when it was mistakenly leaked online; this one is a new/different one. You can watch it at this location.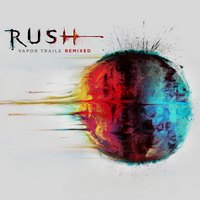 It was an exciting week for Rush fans as this past Monday the band released the long-awaited remix/remaster of Vapor Trails. Fan reaction to the remix has been overwhelmingly positive so far judging by comments on this site and others. Along with the Vapor Trails remix the band released a Rush: The Studio Albums 1989-2007 box set containing remastered versions of their 7 Atlantic-era album releases. MasterDisk's Andy VanDette is the man behind remastering the albums contained in the box set, as well as the previously released Sectors box sets containing Rush's Mercury catalog. The MasterDisk website posted a short Q&A with VanDette this past week where he discusses the remaster effort and how it compared with the Mercury remasters, along with his thoughts on the original mix of Vapor Trails:
... I remember hearing [Vapor Trails] before it came out, and thinking "Wow, I guess this is why I will never work with Rush." ... The snare and vocal were so overshadowed by low end. I see why they had a hard time remastering the original mixes. So much of their energy is in the bottom octave 20-40Hz. You can roll it off, but so much of the mixes' punch came from that. It was just mixed that way. The David Bottrill remixes are very well balanced and musical.
You can check out the complete interview here. John over at Cygnus-X1.net has transcribed/scanned the liner notes for the remix and made them available online here. For my latest poll I'm asking everyone which song from Vapor Trails they think benefited the most from the remix? Please take the poll and let us know if you haven't already. So far Ceiling Unlimited is way out in front with nearly one quarter of the vote, likely because of the newly uncovered guitar solo in the remix. Jeff Miers of the Buffalo News wrote an article earlier this week on the subject of finding strength and inspiration through music, and uses Rush's Vapor Trails to help illustrate his point:
... As a major prog-rock fan, I've often found myself turning to the Rush album "Vapor Trails," which is essentially a concept album revolving around lyricist/drummer Neil Peart's attempts to deal with the loss of both his 19-year-old daughter and his wife of several decades within a single 12-month period. It's heavy stuff, but not heavy-handed. "Sweet Miracle" in particular resounds with hope against all odds, and it is a deeply inspiring piece of work. ...
You can order the Vapor Trails remix on CD or on 180g vinyl, and order the Atlantic-era The Studio Albums 1989-2007 box set here.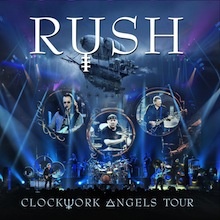 A few weeks ago Rush finally announced details and a release date for their highly-anticipated Clockwork Angels Tour concert video. On Tuesday, November 19th Rush: Clockwork Angels Tour will be released simultaneously on CD, DVD and Blu-ray. Up until now only the DVD and Blu-ray were available for pre-order, but now the 3 CD set is available as well. The concert was filmed/recorded on November 28th of last year in Dallas, TX and the primary footage consists of this entire concert which was one of the band's Night A setlists. As a bonus they also include 3 Night B setlist tracks (Middletown Dreams, The Pass and Manhattan Project) from the November 25th show in Phoenix along with a soundcheck recording of Limelight. The DVD/Blu-ray also includes a 25-minute tour documentary titled Can't Stop Thinking Big, the intro/intermission/outro tour videos and other exclusive bonus content. You can get all the details in the Rush.com press release and pre-order your copy of the DVD, Blu-ray, or CD on Amazon today (DVD, Blu-ray, CD).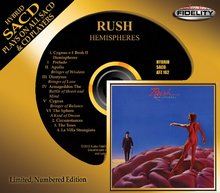 Audio Fidelity's SACD (Super Audio CD) version of Rush's Hemispheres officially released back on September 16th via the Audio Fidelity website. As of this past Tuesday it is also available via a number of online retailers including Amazon. If you decide to purchase directly from Audio Fidelity use the code CYGNUSX1 at checkout to get 20% off of your order. Hemispheres will celebrate the 35th anniversary of its release later this month. Audio Fidelity released an SACD version of Counterparts earlier this year.
The Kidney Foundation of Canada is running a 30-second commercial spot featuring Rush's Alex Lifeson to help raise awareness of the conditions that cause kidney disease. Alex has worked with the Foundation in the past where he has contributed paintings for their A Brush of Hope charity auction. Alex's father passed away of kidney disease several years ago. The commercial was made available online earlier this week and can be viewed at this location.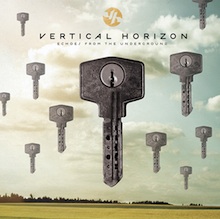 Vertical Horizon's new album Echoes from the Underground will release this coming Tuesday, October 8th, and the album is now available for pre-order from Amazon and other retailers. Way back in early 2012 we first learned that Neil Peart had played drums on a couple of tracks on the album; Instamatic and South For The Winter. Earlier this week Billboard posted a video of Neil Peart in the studio tracking Instamatic which you can check out at this location. There's also some older video of Neil in the studio with the band from back in early 2012. Neil had also made a guest appearance on Vertical Horizon's 2009 album Burning the Days, playing drums on three of the tracks along with penning the lyrics for one. You can pre-order your copy of Echoes From the Underground here.

Iconic Toronto music store Sam the Record Man closed its doors back in 2007 due to sagging sales, and store founder Sam Sniderman passed away last year at the age of 92. Sniderman was instrumental in the promotion of the Canadian music industry, helping several Canadian acts such as The Guess Who, Joni Mitchell, Gordon Lightfoot and Rush get their careers off the ground. Sam began selling records out of his family's College Street radio store in 1937. After Sam's business began to thrive, his family changed the name of the store to Sam the Record Man in the 1950s, and in 1961 Sam moved the store to its iconic Yonge Street location with its huge flashing red neon record sign. Ryerson University bought the store's old location back in 2008 and committed to remount the sign at some future point but later reevaluated the commitment. From CBC News:
... in November 2011, Ryerson reevaluated its commitment to replace the sign. The university reconsidered after it estimated the cost to repair and hang the sign would be more than $250,000. The university has said it will negotiate a less expensive way to commemorate the sign with the city. So far, Ryerson has not found a new home for the Sam's sign. It appeared briefly in a Nuit Blanche art exhibit, but has not had a permanent home since it was taken down. Today the spinning records, which were first seen on Yonge Street in the 1960s, sit at an undisclosed location, awaiting a placement somewhere in Toronto. ...
Toronto music journalist Nicholas Jennings has started an online effort to help push the reinstallation of the sign via a Facebook page titled SOS: SAVE OUR SAM the Record Man Sign. Earlier this week the page shared a copy of a letter Geddy Lee had sent to the Toronto City Council this past Friday in support of preserving the sign. You can read a copy of the letter here. There's also an online petition at change.org in support of remounting the sign.

Canadian folk musician Jacob Moon will soon be releasing a new CD titled Fascination which will include covers of Rush's Limelight and Subdivisions. The album is slated for release sometime in November and can now be pre-ordered via making a pledge at Kapipal or RocketHub. Jacob also posted a preview of the cover art earlier today (thanks RushFanForever). It'll also include covers of songs from Yes, Marillion, Radiohead and Peter Gabriel, along with two new original songs. Jacob recorded Limelight with the Alex Lifeson-produced David Barrett Trio. You can check out some in-studio footage where Jacob and David talk about The Trio's work with Alex Lifeson, the Limelight recording and more at this link. Jacob Moon garnered the attention of Rush and their fans when he posted a YouTube video of himself performing an impressive rooftop solo rendition of Rush's Subdivisions a few years ago. The video quickly went viral, and Rush later asked Jacob to perform the song at their Canadian Songwriters Hall of Fame induction ceremony back in March of 2010.

Reader weirdharold2112 let me know about a Rush mention in last weekend's Chicago versus Detroit NFL football game. At one point in the broadcast they showed a graphic titled Canadian Connection where they showed the common Canadian connection between Chicago's coach Marc Trestman (who coached in the Canadian Football League), the Fox broadcaster's Jay and Dan (both Canadian) and Detroit's Nate Burleson (born in Calgary). They also included Rush in the graphic, although it's not clear what their connection to the game was (not that it matters). You can check out a screenshot of the graphic here (thanks Matthew R).
Reader jon g let me know that Philadelphia-based jam band Disco Biscuits played a trippy cover version of Rush's Tom Sawyer at a show this past weekend. You can check out a bootleg video of the performance on YouTube at this location.
This past Sunday, September 29th was the 37th anniversary of the release of Rush's first live album - 1976's All the World's a Stage. Uberrock's Bill Lindsey attended the May 6th, 1977 St. Paul Civic Center Rush show on the band's tour in support of the album, and wrote a piece this past week where he reminisces about the show. You can check it out online here (thanks Lee B).
We learned earlier this week that Neil Peart makes an appearance on the premiere episode of the six-part, Canadian documentary series Walk the Walk. Each of the six, 1-hour episodes were shown in succession on Slice last night, and will also premiere on Global TV starting next Saturday, October 12th. Both Slice and Global TV are Canadian cable TV Networks; it's not clear whether this will be shown in the US or other countries. The series celebrates the work done by community heroes, surprising them with a visit from a celebrity they admire who has already been inducted into Canada's Walk of Fame; Rush was inducted back in 1999. The episode with Peart focuses on London, Ontario based musician Karl Sloman, who shows compassion, along with perseverance and ingenuity, with the band he formed in 2005 called Trainwreck - an eight-member band divided equally between players with and without disabilities. From the Toronto Star:
... The four disabled musicians are all percussionists, with instruments rigged up to their wheelchairs or, in one case, a drumstick with an electrode running through the middle that makes it easier to drum on cue. Sloman, who idolizes Neil Peart, drummer for rock group Rush, thought he was being given an opportunity to meet and consult with Peart's technician. He wasn't expecting the notoriously private icon to join the visit. "I know people think what I do is a big deal, but I don't see it that way," Sloman says. "To be treated the way I was by the band and by the Rush organization, it really turned me on my back." ...
You can check out a photo of Sloman with Neil Peart on the Walk the Walk Facebook page. There's also this minute-and-a-half preview video of the Neil Peart episode which you can check out below or at this location..
On this date last year, Rush was finally selected for nomination into the Rock and Roll Hall of Fame! A couple months later they were announced as one of the 2013 inductees. That's all for this week. Have a great weekend everyone!