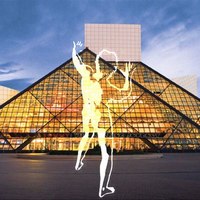 Yesterday we heard Alex Lifeson's comments on Rush's recent Rock Hall nomination when he was interviewed for The Record in the lead up to the band's show tomorrow in Newark. Now it's Geddy Lee's turn. Geddy recently spoke with The Star-Ledger in the run-up to tomorrow's show for an interview and also had some comments on the nomination:
... Rush finally earned a nomination to the Rock and Roll Hall of Fame - prompting some zealots to suggest that the long-snubbed trio should tell the selection committee to take a hike. "That's not very Canadian," says Lee, laughing. "It's an honor, and any time somebody wants to honor you, you should be gracious. But it's never been something that's been super-important to us. Awards are outside of you. We're aware that it means so much to the fans, and since it does, it has to mean something to me. I almost feel like they're vindicated more than we are. "It's hard to put into words what it means to us that our fans have been so passionate. It makes us want to play all the better. They've invested so much - we try very hard to make the shows worth it for them." ...
Geddy also talks a bit about the Clockwork Angels album, the tour and the tight friendship he has with his bandmates. You can read the entire interview at this location.
Related Posts:
[Alex Lifeson on Rush's Rock Hall nomination in new interview]
[Rush Rock and Roll Hall of Fame nomination news updates]
[It's official! Rush FINALLY nominated for induction into the Rock and Roll Hall of Fame!!]
[Rush finally nominated for induction into the Rock and Roll Hall of Fame!?]