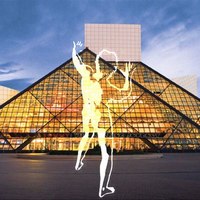 Last Wednesday the Rock and Roll Hall of Fame revealed details regarding the upcoming April 18th induction ceremony where Rush will be inducted, including the news that Dave Grohl and Taylor Hawkins of the Foo Fighters will be inducting the band. They also posted details regarding ticket sales and pre-sales which will be conducted via Ticketmaster at this location. AMEX pre-sales along with VIP package pre-sales began last Thursday. Those pre-sales have since ended but the fan and Rock Hall member pre-sales will kick-off today at 10AM PST (1PM EST). Public ticket sales will begin this coming Friday, February 1st. Rush revealed details regarding the fan pre-sale via the Rush newsletter last Wednesday night including the news that the password will be rushfan:
... We want to celebrate and share this moment with as MANY Rush fans in the room that night as possible! There will be a special Rush fan pre-sale that starts Monday, January 28 at 10 a.m. PST through Thursday, January 31 at 10 p.m. PST at Ticketmaster. The password for this pre-sale is rushfan. There will be preferred seating held in every price and seating area. ...


If you are a Rock Hall member, you should have received information via their newsletter regarding the member pre-sale. Multiple price levels will be offered from $75 all the way up to $750 as shown in this Nokia Theatre seating chart. As mentioned above, Dave Grohl and Taylor Hawkins of the Foo Fighters will be inducting the band. Heart revealed yesterday via their Facebook page that Chris Cornell of Soundgarden will be doing the honors for them. Other artists that will attend the ceremony are John Mayer, Christina Aguilera, Jennifer Hudson, Don Henley, Gary Clark Jr., and Usher with more to be announced later. So what do you think about the Foo Fighters being chosen to induct Rush into the Rock Hall? Take the poll and let us know. Reader (and author) Phil Simon has also created a Facebook group and associated event for the induction for those who plan to attend.
Related Posts:
[Rock and Roll Hall of Fame induction ceremony fan pre-sale and ticket price details]
[Foo Fighters to induct Rush into the Rock and Roll Hall of Fame; induction ceremony pre-sale details released]
[Rock and Roll Hall of Fame induction ceremony ticket sale and pre-sale information released]
[Rock and Roll Hall of Fame inductee announcement open thread]
[Rock and Roll Hall of Fame to announce 2013 inductees in a press conference next Tuesday, December 11th]
[Alex Lifeson talks Rock Hall, friendship and Rush's longevity in new Cleveland Plain Dealer interview]
[Cleveland Plain Dealer profiles Rush superfan Peter Chakerian in wake of Rush's Rock Hall nomination]
[Geddy Lee on Rush's Rock Hall nomination in new interview]
[Alex Lifeson on Rush's Rock Hall nomination in new interview]
[Rush Rock and Roll Hall of Fame nomination news updates]
[It's official! Rush FINALLY nominated for induction into the Rock and Roll Hall of Fame!!]
[Rush finally nominated for induction into the Rock and Roll Hall of Fame!?]