UPDATE - 1/21@3:45PM:

Heart has posted a promotional poster for the Rock Hall induction ceremony to their Facebook page. The poster lists special guests John Mayer, Christina Aguilera, Jennifer Hudson, Don Henley, Gary Clark Jr., Usher, Dave Grohl and Taylor Hawkins with more to be announced later. The fact that Grohl and Hawkins are included in this list tells me that the Foo Fighters will likely perform and might be inducting Rush. Thanks to Future Rock Legends for the heads up.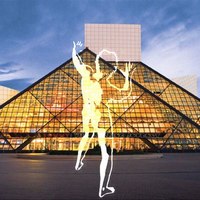 The Rock and Roll Hall of Fame has released some updated information regarding tickets for the April 18th induction ceremony at the Nokia Theatre L.A. Live in Los Angeles where Rush will be inducted. They had previously been reporting that tickets would go on sale to the public on Friday, January 25th but have pushed that back one week to Friday, February 1st. They also revealed that there will be a members-only pre-sale beginning on Monday, January 28th for those whose memberships were active as of January 1st, 2013. Information regarding member access and order details will be provided in an email to members next week. According to Seattle radio DJ Mark Christopher ticket prices will range from $75 up to $3000 for a VIP experience. Rush made it clear in several interviews following the induction announcement that they would be attending the ceremony and do plan on performing. The Rock Hall has not yet released any details regarding the ceremony itself as of yet, including who will perform and in what order, and who will be inducting the various artists. From what I've been hearing the band won't be kicking off the 2013 North American leg of the Clockwork Angels tour until after the April 18th induction ceremony.
Related Posts:
[Rock and Roll Hall of Fame inductee announcement open thread]
[Rock and Roll Hall of Fame to announce 2013 inductees in a press conference next Tuesday, December 11th]
[Alex Lifeson talks Rock Hall, friendship and Rush's longevity in new Cleveland Plain Dealer interview]
[Cleveland Plain Dealer profiles Rush superfan Peter Chakerian in wake of Rush's Rock Hall nomination]
[Geddy Lee on Rush's Rock Hall nomination in new interview]
[Alex Lifeson on Rush's Rock Hall nomination in new interview]
[Rush Rock and Roll Hall of Fame nomination news updates]
[It's official! Rush FINALLY nominated for induction into the Rock and Roll Hall of Fame!!]
[Rush finally nominated for induction into the Rock and Roll Hall of Fame!?]