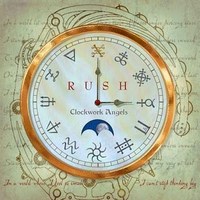 Yesterday in a Cape Breton Post article relaying his reaction to Rush winning a Governor General's Award, Neil Peart confirmed that the band would be embarking on a Fall tour (thanks John at Cygnus-X1.net):
... "We are especially appreciative for the presentation of this lifetime achievement award now - while we are still active (Too active, our families might say!)" said Rush drummer and lyricist Neil Peart in an emailed statement, noting that the band was putting the finishing touches on its 20th studio album, "Clockwork Angels," with a fall tour planned. ...
We've already known this to be true since earlier this year, but this is the first confirmation from an official band source. As it stands right now, the band is still in the process of routing the tour and solidifying dates, with holds on several venues across North America. Generally speaking, I've been hearing that the band will be hitting dates in the Midwest and Easter Canada in September-October, and the Southeastern US in October-November. Last week I received word from one of my more reliable tour info sources that a date at the Klipsch Music Center in Noblesville, IN is planned for Thursday, September 13th. Other possible dates are Jiffylube Live Pavilion outside Washington D.C. in September, and Atlanta and Tampa Bay in October. Although 97.1 The River in Atlanta is reporting (thanks fordman) that there will be an Atlanta date in November, but it's not clear what their source for this is. Adding to the confusion is the fact that the band already had holds on several venues from late last year when they had been pursuing their original plan of a Summer-Fall tour. So what does all this mean? It means that things are very much in a state of flux, and things can still rapidly change at any point - although I think it's safe to say that the band will be kicking off a Fall tour in North America in September. That said, my policy is to report what I hear and let my readers make of it what they will. I haven't heard anything regarding the band's plans into 2013, but my guess is that they will take an extended break for the Holidays and resume the tour early next year - possibly with a stint in Europe (just speculation at this point). As always, more information as I learn it.