UPDATE - 10/20@7:33PM: There are some interesting comments in MusicTAP's post on the Sector box sets from yesterday (thanks Hank N). Especially this one from Bill Hunt of The Digital Bits website:
Just a heads-up: Universal Music just confirmed to me that these box sets will be CD sets (music in 44.1/16) with only one album upgraded to DVD lossless per set. (They were apparently remastered in 96/24 then downconverted for CD. However, all 15 albums are going to be available as full 96/24 downloads at HDTracks.com for about $18 each. I'm trying to talk them into discounts for ordering multiple albums at once.
----- snip -----
UPDATE - 10/19@9:43AM: Here's the official press release for the Sector box sets release.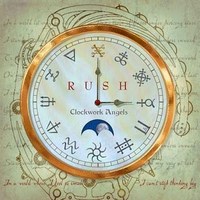 Rush sound engineer Rich Chycki posted to his blog earlier this evening updating us on the various projects he has in the works including some news regarding the recording of Rush's upcoming Clockwork Angels album:
... Currently, Rush, producer Nick Raskulinecz and myself are reconvening to complete the recording of Rush's next studio album Clockwork Angels. Sorry, no timeline for completion yet ...
It good to hear that things are finally underway. The band plans to release the album on their new label Roadrunner Records sometime in the first of half of 2012 with a supporting tour to follow.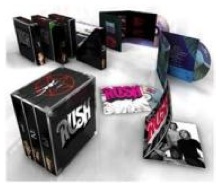 Rich also chimed in on the Sector box sets:
... Based on the strong feedback from the Moving Pictures 5.1 remix, Universal Records had asked me to remix Fly By Night, A Farewell To Kings and Signals in surround to be included in their 'Sector' series of box set releases currently underway. Like Moving Pictures, all the multitrack masters I worked with were transferred from the original analog tapes at 96 kHz/24 bit resolution and this quality was maintained right down to the finished master. Listeners are in for a revelation of new detail for these releases. ...
The 3 6-disc Sector box sets will release on November 21st and span Rush's entire 15-album Mercury Records recording career. Each set contains five of their 15 Mercury albums in chronological order, all transferred to high resolution 96kHz/24-bit along with one album from each set in 5.1; Sector 1 contains Fly By Night in 5.1, Sector 2 has A Farewell to Kings in 5.1, and Sector 3 includes Signals in 5.1. Each album is packaged in a replica vinyl mini-jacket of the original album release. Each set also includes an exclusive booklet packed with unpublished photos, original album lyrics and credits with all three box sets forming a Rush CD road case. You can read Rich's entire blog post at this link.
Related Posts:
[Rush 6-disc Sector box sets; Fly by Night, A Farewell to Kings, Signals in 5.1 coming November 21st]
[Rush 5-CD Sector box sets to release November 21st]
[Rush producer Nick Raskulinecz: Clockwork Angels in pre-production; start recording mid-October]
[Rush signs with Roadrunner Records]
[Excerpts from Classic Rock's Prog magazine Rush feature]
[Alex Lifeson interview from the Toledo Free Press]
[New Geddy Lee radio interview at the UK's 106.1 Rock Radio]
[Short Rush Clockwork Angels feature in March issue of Mojo]