UPDATE - 7/2@9:14AM: Alex posted a vintage photo of himself to Instagram playing the Canora at a highschool dance back in 1967:
----- snip -----
UPDATE - 6/23@4:58PM: Alex Lifeson chimed in about this as well via his official Instagram:
Garren is tasked with bringing my Canora back to life after a half century of neglect. @geddyimages and I both painted our Canoras in day-glo green and orange a million years ago and now it's time to restore it to that gorgeous fifty-nine dollar finish! Corduroy pants and a paisley shirt-stylin' big time! ...
----- snip -----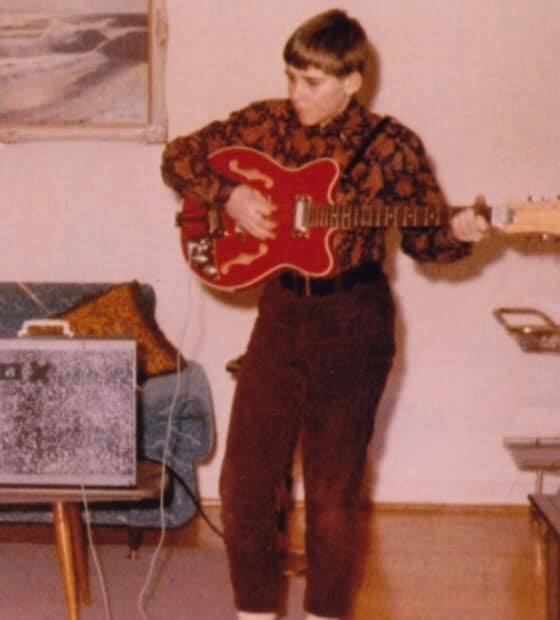 Loucin Guitars founder and master guitar maker Garren Dakessian announced earlier today via the Loucin Guitars Facebook page that he has been entrusted with the task of restoring Alex Lifeson's first electric guitar - a Japanese Canora guitar that his parents gave him as a Christmas gift in 1967 at the age of 14. The guitar was shown in some early home movie footage included as part of his recent video promoting the release of his signature Epiphone Les Paul Standard Axcess. You can see it here at around the 30-second mark. From the Loucin Guitars Facebook post:
Well, I've kept this secret for a couple months now, but I received the green light today to talk about it. I am completely delighted, floored and honored to announce that Alex Lifeson has asked me & entrusted me to restore his first electric guitar which his parents bought for him (Christmas 1967). A year later he formed RUSH with the very same guitar. The guitar right now is in a box, all in pieces, I'll be posting progress pictures very soon. Mind Blown